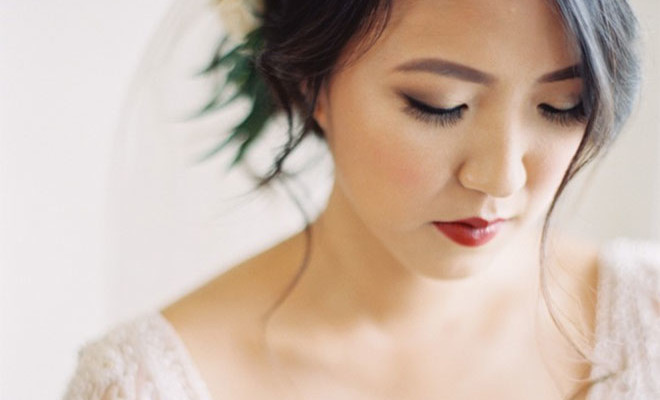 Meiwen Wang
Bridal season is here and Food Flaunt has the beauty tips you need to make it down that aisle feeling the most beautiful! Here are our timeless beauty trends for all 2016 brides-to-be. We predict bright glowing skin, pink lips, soft smoky eyes, laid back hairstyles, neutral nails, and whimsical braids.
Nails
Once you have the main necessities locked down like your dress, hair and makeup, it's time to sit back, relax and book that mani/pedi appointment. This season, it's all about the neutral tones. Whether you're the bride, bridesmaid or simply a guest at the wedding, having a fresh manicure and pedicure is essential. No matter what color or pattern your dress is, neutral tones like Ani Michele Wedding Planner or Crème De La Crème are everlasting and beautiful for your special day.
---
Hair
Weddings take the cake when it comes to big "hair moments," and women are willing to go to great lengths to ensure their hair looks picture perfect beneath their veil. After all, this is a one-shot opportunity to make the most glorious bridal entrance ever. In fact, according to a recent national survey conducted by Wakefield Research on behalf of national hair brand Joico, over 70 percent of American women agree, the biggest "hair moment" of a woman's life is her wedding. Food Flaunt is bringing you two trends that are unstoppable and eternal when it comes to wedding hair for all seasons to come.
According to celebrity hair stylist Mika Fowler, "Allow to Do Hair" is in trend. Undone up-dos and free-flowing locks are easy to manage, effortless, and will have the bride not worrying. These looks are clean, uncomplicated, and fashionable. Allowing your hair to do what it does is a sexy alternative to the traditional bun or curly locks. Fowler recommends to already have a hairstyle you love, whether you want a classic twist or prefer to have your hair down and flowy, give your hair some extra texture by either teasing or adding in waves before pulling it back. Allow strands to hang loosely and frame the face gracefully with a gorgeous unforced feel. Mika Fowler uses Kusco-Murphy Lavender Hair Crème on damp hair before blown out to encourage curl or waviness. The flexibility of your hair will enhance naturally. Using a small quantity on the ends is the way to pull off the most texture.
In 2016, braids have made a big statement through all seasons. Some of the hottest bridal designers are pairing their run way looks with braid trends this year. From face-framing halos to elaborate intertwined up-dos, braids definitely make a statement. Celebrity stylist, Castillo, who gives Ruby Rose jaw dropping braids, recommends a totally romantic style braid with an up-do, laying braids, with face-framing loose strands, a loose, windswept fishtail braid. Castillo recommends using ORIBE Superfine Strong Hair Spray locking in must-hold styles with lustrous, natural shine.
---
Makeup
Keeping it natural and naked is the most classic wedding makeup style. This is a look most often popular for brides having beach or outside wedding. According to celebrity makeup artist Spencer Barnes, a common wedding makeup request is to give skin a dewy look. Barnes suggests achieving this natural, radiant, and polished face use a highlighter and a setting spray. Barnes, recommends Benefit Cosmetics Dandelion Shy Beam Matte Highlighter to attain that natural glow, and by adding NYX Matte Finish Makeup Setting Spray, makeup stays put and gives a freshness look throughout the day.
Makeup with a bold statement is traditional and always stands the test of trends. This make-up style is quite the opposite of the natural/naked look. Bold eyes and strong defined lips are great for an evening wedding. Barnes encourages using a pink or coral lip tone that works well with your skin color while working that traditional bold makeup. This will add a bit of romance to the smoky eye, luxurious lash, and bold brow look.
For the latest and greatest info on food and lifestyle, be sure to check out foodflaunt.com!
---
This story was written by a fab member of our Ambassador Network.