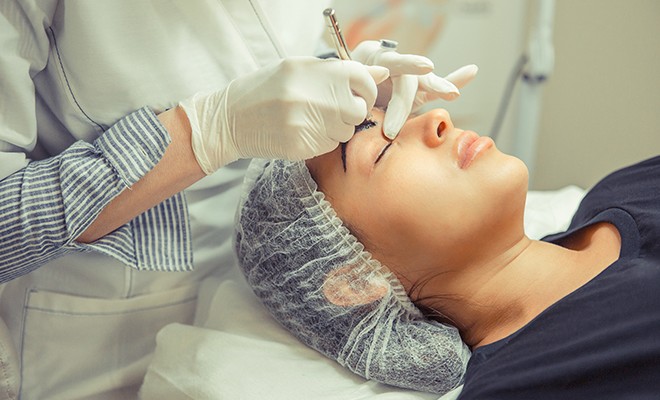 Keeping your eyebrows on fleek takes a lot of effort. From getting them consistently threaded to purchasing the perfect non-smudging pencils every other month, it takes time and money to keep your brow game on point.
But what if we told you your brows can stay put all day, every day with just one beauty session? Enter microblading, a unique beauty trend that has quickly caught on! Read on to see if microblading is for you.
What Is Microblading?
Microblading is more or less the tattooing of your eyebrows — but less scary than the way you're probably imagining it. It's essentially a technique that uses semi-permanent makeup to draw in individual eyebrow hairs to help your real brows appear fuller!
How Does It Work?
Technicians use a manual handheld tool to implant pigment under your skin and draw hair-like strokes "to mimic natural hairs in your brows." It doesn't hurt too much (the pain is bearable), and it can last up to three years. It's a great alternative if you don't like to draw in your brows every day.
Should You Try It?
If you draw in your eyebrows every day, you should consider microblading. While the first treatment can cost up to $900, it's worth the investment as microblading gives you the option to semi-permanently tattoo your favorite eyebrow shade, shape, and density — providing convenience in your beauty routine. If you like to regularly switch up your brow look, it might not be the best decision to get microblading.
Would you try microblading? Let us know in the comments below!
xx, The FabFitFun Team