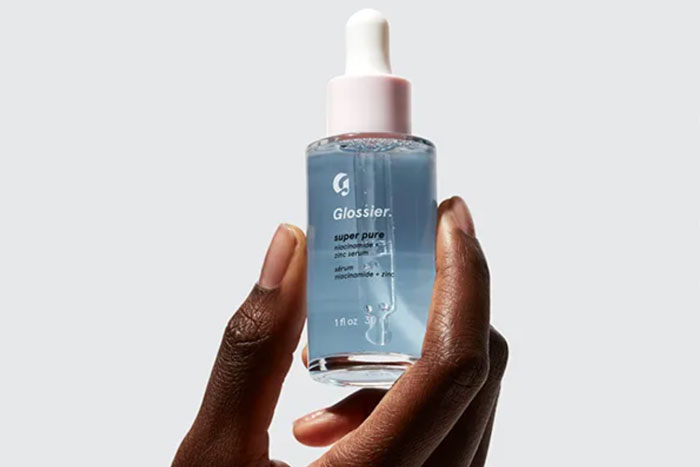 Feature Image by Glossier
Oversized pores? We don't know her. Alright, maybe we do. If you're someone with oversized or pesky pores, then you have come to the right place.
We're unpacking our favorite serums that will help with the unpacking of your pores. From affordable to the splurge, we've got you covered.
Taking care of your pores doesn't have to be expensive — just ask the people raving over this powerful serum. This bottle is rich in niacinamide and zinc, which work together to reduce signs of congestion while balancing visible sebum activity. This product is also cruelty-free and vegan.
---
Next time you're craving sake, may we suggest this as an alternative? The delicious rice wine actually has some pretty cool skin-healing superpowers. This serum increases the circulation in your skin, tightening the skin and modulating oil production. The peach, which is plentiful in vitamins A and B, helps to fight off the effects of sun damage.
---
Glossier is always working to make something that complements the blank canvas that is our face and skin. The serum is designed to reset your skin in just four weeks, and the daily vitamin and mineral duo features zinc PCA to help reduce the look of congested pores without all the yucky drying effects that come along with other products.
---
It's a wonderful mix of AHAs, glycolic acid, and hyaluronic acid that works to minimize the size of your pores. Perfect for oily skin, this magical serum stands up to signs of again (and everyone is using it). Do you need another reason to use this? We think not.
---
We can't talk about serums without talking about SK-II. With over 9,000 (yes, you read that right!) reviews, this serum is for lack of a better word — popular. The product is guaranteed to leave you with a smoother, tighter, more refined texture, all the while reversing the signs of damage.
xx, The FabFitFun Team