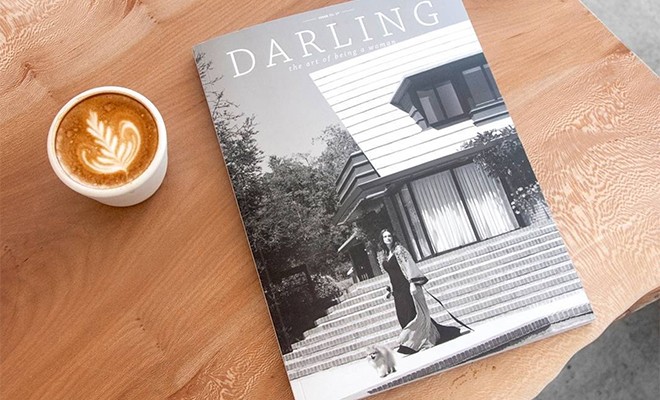 @darling
We all love to read tabloids filled with the latest gossip on who T. Swift is dating every once in a while. But even though these magazines serve as a source of entertainment, we don't ever feel inspired after putting the magazine down.
So when we do want to be reignited with passion and inspired to be the best version of ourselves, we reach for one of the five publications below. Each of these magazines are filled with travel inspo, décor ideas, style tips, fun recipes, and thoughtful narratives.
These may not be as juicy a read as a tabloid, but they'll certainly feed the creative soul. Get to reading!
Kinfolk Magazine
There's no way you'll be able to put this magazine down without feeling cultured. Kinfolk promotes quality of life and has been cultivating a global community since 2011. Pick up this quarterly magazine if you want to look at stunning images and read all about design, fashion, interiors, food, and city guides.
---
Darling Magazine
The name of this publication is synonymous with its content. Touting itself as "the art of being a woman," the magazine's mission is to lead women to discover beauty apart from vanity and to practice the arts of virtue, wit, and modesty. We love how Darling breaks down articles into categories for the dreamer, hostess, explorer, beautician, intellectual, achiever, confidant, and dreamer. Inspiration is on every page of this darling read.
---
Rookie Magazine
Started by Tavi Genvinson in 2011, Rookie is an online publication written by and for teenage girls (or really any age for that matter). Each month a different editorial theme drives the writing, photography, and artwork that is published. The articles are extremely thought provoking and really leave us feeling encouraged it will be one of those girls who run our country one day.
---
Cherry Bombe Magazine
This biannual publication celebrates women and food…need we say more? It's about things that nourish the body and mind, and touts its readers as "passionate about food, aesthetics, and the world around them."
---
Domino Magazine
Ripe with home décor inspiration, style inspo, and DIYs galore, Domino is the perfect quarterly print magazine for the young adult woman navigating her first apartment, work wardrobe, or dinner party. Find all kinds of hacks and how-to's as well as beautiful images to reignite your desire to be inspired.
xx, The FabFitFun Team