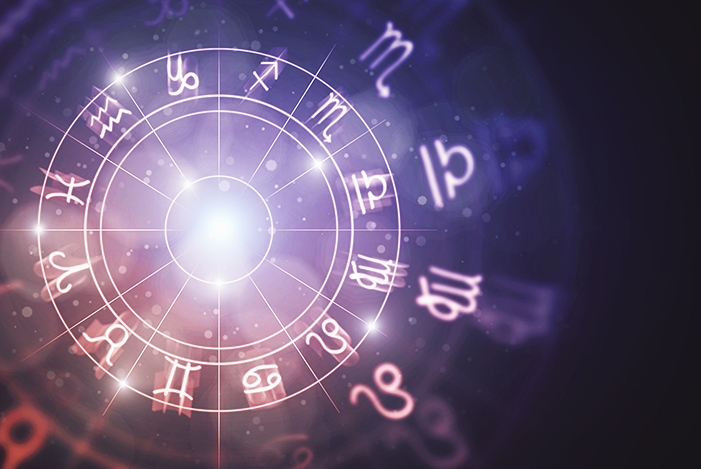 With the fresh start of a new year, let your horoscope get you in sync with the cosmic flow. Keep reading to find out what your 2020 horoscope holds, according to Susan Miller, the NYC-based founder of Astrology Zone also known as one of the best-known astrologers of our time.
Aries (March 21 – April 19): Something good is coming up.
December was a month of incredible career success, and Miller expects the fruits of your labor to materialize in 2020. "Something is coming — like a new title, or a move up," she muses, "A lucky break, a promotion, beautiful publicity in the press…" All that hard work will pay off soon — for now, just wait and see.
Taurus (April 20 – May 20): Expect big news around the eclipse.
By the end of the year, Taurus' ninth house — of spirituality, higher learning, wealth, and good luck — was alight with celestial bodies. According to Miller, this trend will continue into the first twenty days of January. With news coming up around the eclipse, we can only imagine what this positive development will hold. "This could mean going back to school and getting all the classes you want," Miller shares.
Gemini (May 21 – June 20): Money, money, money.
"This is a year of tremendous reward for Gemini," says Miller, "It will come in a big chunk, like an inheritance or winnings, rather than through salary." She explains that this can mean royalties, commission, a mortgage with an attractive rate, or a job with great benefits. However, this does not mean that you should go crazy playing the lotto, she adds.
Cancer (June 21 – July 22): Time to commit.
Cancers have the best marriage aspect in the entire zodiac this year, so it might be time to commit. "If they're already married, the husband or wife might bring good news," Miller shares, adding that you can also use this beneficial aspect in business or a one-on-one collaboration.
Leo (July 23 – August 22): Devote yourself to health.
Leos have the best health aspect of the zodiac, so this is an ideal time to channel your motivation at the gym and score the svelte physique you're after. Miller adds that you'll be working very hard, but happy to be busy, with plenty of money to take shopping.
Virgo (August 23 – September 22): Channel that creativity.
The stars have love in mind for the most modest sign of the zodiac, or perhaps you're considering having a baby. (If you aren't ready just yet, maybe freeze your eggs?) Miller also notes that Virgos will be "idea factories" this year, stating, "This is the year to silence that inner-critic and to voice your ideas because they're worth money!"
Libra (September 23 – October 22): Real estate.
"If you move during this period, you'll never want to move again," shares Miller. According to the stars, this is the ideal time to find your perfect property that ticks all the boxes of your dream home. She reassures you to consider reaching out for help with the down-payment if need be.
Scorpio (October 23 – November 21): Communicate.
This is the year to start a podcast, TV series, column, or even to write a book. "This year, how well you communicate will make or break your career," Miller reveals. You will be especially talented at debate, negotiations, and closing deals. If you're a lawyer, it's basically a slam dunk.
Sagittarius (November 22 – December 21): Name your number.
In 2019, Sagittarius was the celestial favorite in all domains…except for salary. Now, it's time for the universe to make amends and to compensate you for all that hard work. It's also a great time to ask for a raise. "Don't be afraid to name your number," shares Miller, "You'll probably get it."
Capricorn (December 22 – January 19): It's your Emerald Year!
After two years of hard work and effort, now is your time to shine. In 2020, Miller notes that Capricorns will be, "Happy as little clams!" With Jupiter conjunct your sign, you will enjoy love, travel, and a year that is simply awe-inspiring.
Aquarius (January 20 – February 18): Clear the decks.
Next year — 2021 — will be your golden year, so prepare now by getting things in order. This is the ideal time to go to the doctor, do inner-work in therapy, or tune into your subconscious. While this might be a quiet year, Miller notes that there might be positive things being said behind-the-scenes. Be discreet and wait until the time is right.
Pisces (February 19 – March 20): Get out there and mingle.
2019 was a spectacular year for your career. Now in 2020, your success is all about who you know. Make new contacts, work your network, and expect your social media to blow up. Whether it's through charity work or in support of a political candidate you like, get out there and mingle for a cause you believe in.
xx, The FabFitFun Team