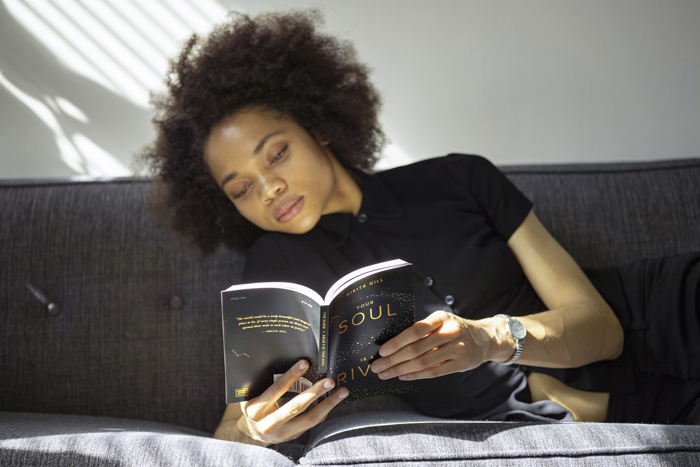 Feature Image by Thought Catalog
This promises to be a holiday season unlike any other as we settle into our homes and max out on solitary time spent social distancing. The fact is that there is only so much Netflix we can watch (and rewatch) before exhausting our appetites for visual entertainment. When this happens, the literary world awaits!
Let the written word inspire your inner-introvert and set your imaginations free. Reading can take you to a place that transcends space and time, so cozy up with a good book and embark on an individual journey with one of the fantastic reads below.
Here are nine books to read next when you have run out of TV shows to watch.
As one of the literary world's most hilarious essayists, this new release is the literary equivalent of David Sedaris' "Greatest Hits." They're his favorites, whether old or new, so you know this compilation is worth a read. Quirky, talented, sentimental, and funny, Sedaris is everything we look for in a writer. Prepare to giggle, ponder, and re-familiarize yourself with his memories abroad, on tour, and with the Sedaris family.
---
Prepare for a perspective-changing read when you sit down with this thoughtful work of fiction about the roads less traveled in the protagonist's life, and what they might have looked like had she pursued them. As book blogger Lauren Ruggles of @bookquoth puts it, "Sometimes what you think would have been a better life isn't necessarily. It might not be the place in your life that needs to change, but the perspective."
---
The author of The Alchemist publishes stories that are deceptively simple yet manage to speak to the deepest layers of our soul. Hence countless celebrities and fans have already gotten their hands on his most recent publication, The Archer. This simple tale follows the journey of a boy seeking out a legendary archer, asking him questions that do not only speak to the "way of the bow" but that resonate with the profundity of life itself. Hint: Keep a journal on hand to make note of Coelho's most soulful quotes.
---
The founder of Bess & Color, a non-toxic nail polish line, recently published this ode to humility. All too often our culture celebrates confidence and assertiveness, but perhaps at the expense of the tremendously useful "beginner's mindset." Relinquish the ego's attachment to pride, which limits the capacity for personal growth, and step into the transformative and fulfilling practice of humility, thereby unlocking success and joy in your life.
---
The September book from Belletrist's reading list was this unexpected, fictional tale in a most unique setting: a Buddhist summer camp teaching meditation to adolescents. Follow along on a coming of age story that takes some truly unexpected twists and will leave you equal parts intrigued and haunted. It's dark — and yet it's light.
---
Whether you're a writer or have yet to become one, Lisa Marie Basile's witchy guide on putting pen-to-paper will get your creative juices flowing. The poet and founder of Luna Luna Mag is one of our favorite contemporary authors to follow for her emotionally in-tune yet practical take on life as a creative. There is something undeniably mystical in the process of creation, and Basile has a knack for making the magical practice of the written word accessible to us all.
---
Good luck reading this one in more than one sitting — it's that much fun to get through. We can't actually travel right now, but we can indulge our imaginations in this luxurious escape to a destination wedding in Italy. You'll get your fix of fashion, drama, couture, and romance thanks to fantastical writing from the author of Crazy Rich Asians.
---
This season of The Crown fanned our obsessions with Princess Diana. She married into the royal family (and an emotionally torturous situation) at the young age of nineteen, overcame tremendous adversity including an eating disorder, and still managed to shine bright as a mother while making an impact on society-at-large. Through her kindness to marginalized groups and her devotion to philanthropy, we find an awful lot to be inspired by in the story of this royal's too-short life, as told in her own words.
xx, The FabFitFun Team
P.S. Want more book recommendations or to connect with fellow literary fanatics? Join our FabFitFun Book Club today to follow along with reading discussions for our pick of the season. Use code GOODIESGALORE for 20% off your first box, access to member-exclusive sales, exclusive fitness and cooking content on FabFitFunTV, and tons more perks.