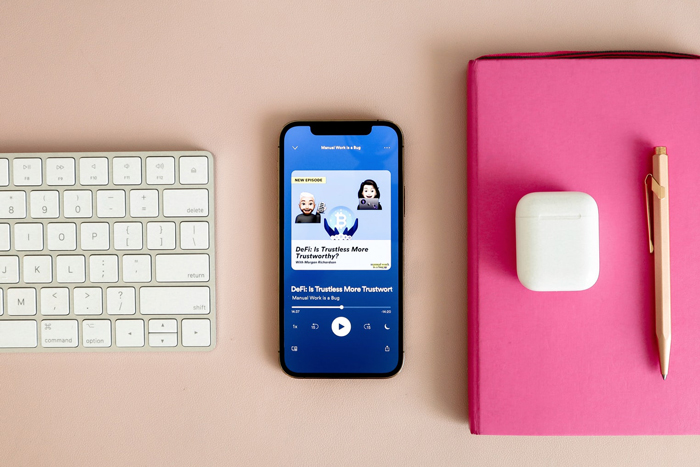 Feature Image by Hillary Black
Ever since the "Serial" podcast from 2014, podcasts have become all the rage. From podcasts that will nurture your mental health to ones that will inspire your career journey, there is a podcast for everyone and everything. 
One of the genres that excel greatly in the podcast world is pop culture! Celebrities, TV, movies — there's a podcast for all parts of the pop culture universe; some are more specific while others embody every part of celebrity that we enjoy!
We've rounded up the best podcasts to listen to if you love pop culture and everything in between. 
Hosted by Barstool Sports, Ria & Fran, their Chicks in the Office podcast is home to countless celebrity interviews, Bachelor recaps, and all the news you could possibly want to know about your favorite musicians, reality stars, and celebrities.
---
From the ladies who brought us our favorite Instagram account, now they're hosting your favorite pop culture podcast! They post three episodes a week: a roundup of all pop culture news, a Kardashian episode (mostly because they are currently rewatching the entire series), and Friday recaps of all the Bravo shows and news of the week. It's very in-depth, well-researched, and a great listen!
---
NPR is a staple in the podcast game but their Pop Culture Happy Hour is another side of the coin. The panel is made up of journalists and they rotate in pop culture experts while posting new episodes five days a week. They cover pop culture news, reviews, and recommendations, so you'll be able to get a daily dose of everything you love.
---
This is a different kind of pop culture podcast but that's what makes it interesting! Kate Kennedy does deep dives on everything from influencers to Taylor Swift and reality TV. She does the podcast solo so you're treated to the inner workings of her brain and thoughts on every topic. It's a longer form podcast and there's hundreds of episode so it'll keep you occupied for hours!
---

If you love all things Bravo, you will love Mention It All on the Betches podcast network. It's funny and sassy so you'll be getting up-to-date news as well as opinions. Each week the hosts, Dylan and Bari recap the shows of the past week, fill us in on any Bravo-related news, and occasionally have interviews with our favorite Bravolebrities.
What are some of your favorite pop culture podcasts? Let us know in the comments below!
xx, The FabFitFun Team