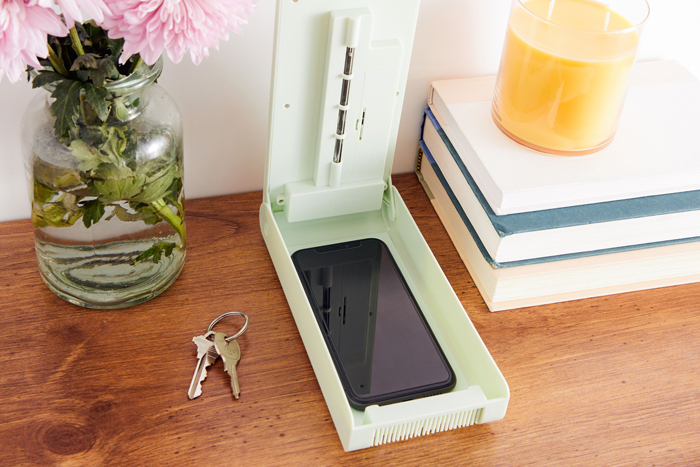 The groundhog might've predicted six more weeks of winter but that doesn't mean we can't get started on planning on how we'll tackle spring cleaning this year. Spring cleaning, no matter how you do it, is a great way to get your home in order for what the next few months will bring.
There are many ways to spring clean your home, whether it's organizing, purging, or giving your areas a deep clean. It can be quite overwhelming though, so we're here to help! First, grab a notebook like the Steel Mill Co. To-Do Planning Bundle to keep a running list of your cleaning tasks, organize which days you'll clean which area, and what items you'll be giving away. Organization is key to a successful spring cleaning and you'll be happy to have these notebooks to help you stay on track.
Below, we've rounded up ways to spruce up every part of your home and get ready for the spring season!
Bathroom
Your bathroom is one of the most used rooms in the house and it deserves some extra TLC. Here are three ways to get your bathroom back in order! 
Clean your makeup brushes.
This is a task that seems so mundane but is so important! Clean makeup brushes not only apply your makeup better, but it'll also help prevent acne and breakouts. Think about all the gunk that is in your makeup brushes after one use. If you're not cleaning them regularly, you just keep applying the dirt back onto your face. We recommend using warm water and a brush cleaner or your face wash.
Organize beauty products.
The best way to keep all your beauty products organized is by storing them in a makeup organizer, like the Sorbus Makeup Organizer. This will help your items stay in their place and also prevent your makeup from becoming dirty and messy. Everything stays together and your products are easy to find!
Properly store backup items.
Whether it's a stock of toilet paper, body wash, shampoo, or travel beauty products, you probably have a ton of backup items in your bathroom. Grab a basket or an under-sink storage organizer to store the extra items. That way, you know where everything is yet you know exactly what you have. This will help prevent any disorganized mess or buying too much of one item.
---
Bedroom
Your bedroom is your sanctuary. It should only be used for sleeping, but since many of us have been working from home for over a year, that might not be feasible. However, there are ways to make your bedroom a safe space and make it feel good as new! 
Refresh your bedding.
Take everything off your bed, including any mattress toppers and give them a deep clean. It'll make all your pillows, sheets, and your mattress feel good as new. If you want to go the extra mile, get new bedding and accessories to make your bed more plush and luxurious.
Organize your electronics.
Getting all your cords and electronics in order will take away so much clutter in your bedroom. Think about investing in a cord storage box to hide TV cords, and to keep your chargers, headphones, etc. all in one place.
Do a deep clean.
While you're organizing and decluttering the rest of your home, don't forget to actually clean! Take this time to get behind all the nooks and crannies of your furniture and get all the hidden dust bunnies. Remove everything from the tops of your dressers and shelves to dust, and get rid of any knick-knacks that don't serve their purpose anymore.
---
Closet
If Marie Kondo taught us anything, it's that if something doesn't bring you joy, you need to get rid of it. That goes for everything, from towels to shoes and jewelry. 
Get rid of clothes.
The rule to get rid of clothes, shoes, and accessories is if you didn't wear them during the past season (or two), give them away. Take everything out of your closet, lay it out on your floor and bed, and examine if you've worn it. Check if it fits and if it's still your style. If not, think about donating it! For the items that are stained, torn, or worse for wear, you should toss it. Once all your belongings are accounted for, think about color-coding your closet or organizing it by type of clothing item, like blouses, tanks, and dresses.
Maximize storage space.
If your closet has space, consider investing in a unit or other items that can help keep your closets in tiptop shape. Maybe a shoe rack will help you keep your shoes in order or if you don't have space for jewelry in your bedroom or bathroom, look into a hanging jewelry organizer.
Organize items by use.
This tip can be useful for all closets but primarily for your linen and coat closets. If your closet has shelves, you should put the least used items at the top. That way, you're utilizing every ounce of space at eye level for easy access. For example, keep holiday decor and beach towels at the top of the closet while sheets and towels along with any extra cleaning supplies or other items are in the middle and bottom. This is also a perfect time to throw out stained, ripped, or old items.
---
Kitchen
There is a reason they say the kitchen is the heart of the home. It's where you are nourished, where you spend the most family time, and make memories. It also can be the room that gets the messiest and is in need of the most TLC! 
Have a "cleaning" station.
If there is ever a time to utilize a drawer or part of the counter for a "cleaning" station, it is now! If you have space (or if you can make the space) set up a little area in your kitchen for all types of sanitizing, for everything from your hands to your electronics! You can add hand sanitizer, wet wipes, and cleaning products like the Tech Candy UV Sanitizer to clean your keys, phones, and any other belongings that can be considered unsanitary. This will add an extra layer of protection to you and your family's health while also keeping items like hand sanitizer and other belongings in their place.
Organize products by category.
To really maximize space in your kitchen, you should look at how you are storing your items such as pots, pans, baking sheets, dishes, and Tupperware. Take this time to look at your most used items, items that you might not need anymore, and think about what you can give away. By maximizing your storage space in your kitchen and getting rid of those Tupperware containers that don't have covers, your kitchen will be a much happier place. 
Clean your refrigerator.
With the fridge being one of the most used items in the house, it might slip your mind that it needs to be cleaned every now and again. Take spring cleaning as a sign to take everything out of your fridge and freezer, and give it a deep clean with your favorite household cleaner. Take the time to organize your food, throw out the expired items, and make your food more accessible!
Can you share additional spring cleaning tips? Let us know in the comments below!
xx, The FabFitFun Team