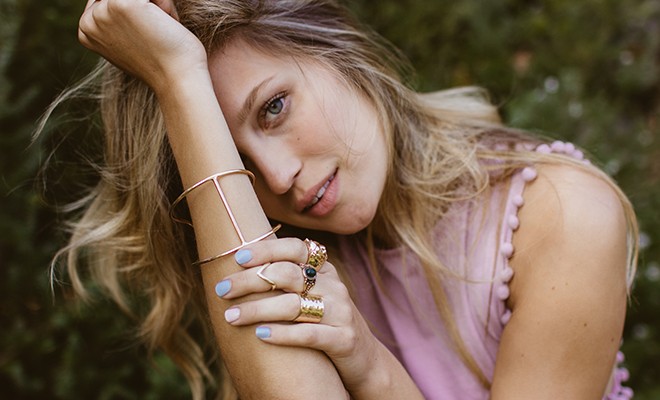 One of our favorite go-to accessories? Jewelry…because it's so easy to style and it always adds that finishing touch to any outfit!
While we love to experiment with the latest jewelry trends, we always find ourselves straying towards the timeless pieces in our collection. Not only do classic picks style effortlessly with every outfit, they'll also never go out of style — making the investment worth every penny.
Ahead, we've listed the essential jewelry pieces you should have in your collection.
Luv AJ Diamond Kite Crawler Earring Set $85
Earcrawlers, especially this pair (one of the Choice items in the FabFitFun Spring Box), are a chic and unique way to wear a little bling on your ears and we guarantee it'll become a staple item in your jewelry collection. The rose gold is perfect for any season and the Swarovski crystal accents will add a touch of elegance to any outfit — even your most basic jeans and t-shirt combo.
---
Emerald Duv Joshua Tree Cage Bracelet $80
Make a statement with half the effort when you put on this cage bracelet (one of the Choice items in the FabFitFun Spring Box). It's an excellent piece for minimalists or just about anyone who loves a simple, yet eye-catching piece. Also, the gold tone will look so chic with any outfit and complement any skin tone.
---
Statement Ring
Whether you want a gorgeous, colorful stone or an all gold or silver look, a statement ring is a must-have. A little ring goes a long way and will continue to be one of your favorites for years to come, as you can style it with more simple rings or wear on its own with a more simple outfit.
---
Pearl Stud Earrings
A classic set of pearl earrings is essential for anyone's jewelry box as it's timeless, beautiful, and can be worn on both casual outings and special occasions. Pearl earrings never go out of style and can be paired with either silver or gold jewelry, making them some of the most versatile pieces you own!
---
Monogrammed Necklace
You can never go wrong with wearing your name on your neck. A sweet monogrammed piece, whether in gold or silver, will look great layered with other trendy jewelry pieces (like a velvet choker) or even worn on its own.
xx, The FabFitFun Team
P.S. Psst! Have you signed up for the #FabFitFun box yet? Don't miss out on $200+ in amazing beauty, fitness, fashion, and lifestyle products every season. Join today!
To get the most out of your box products, make sure to check out the Insider page.