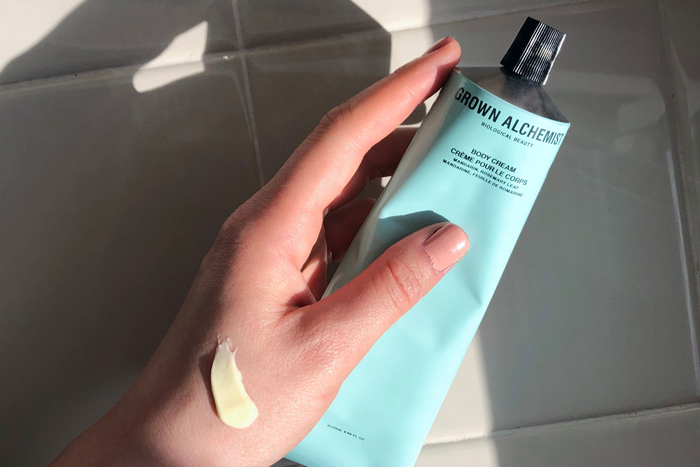 The dream has always been to have glowing skin year-round; but between every brand telling you that they know the one secret that'll change your skin forever to endless new launches always hitting the shelves, it can get overwhelming to decide what routine you should actually follow.
However, when it comes to your body care routine, you should be relieved to know that there are a few habits that you should adopt now and forevermore. Here are seven body care habits you can follow to keep your skin in tiptop shape for years to come.
Moisturize a.m. and p.m.
Even the most minimalist of beauty lovers know that at the very least you should be moisturizing your skin to keep it hydrated and looking its best. Karine Joncas, the founder of Karine Joncas, explains, "applying a good layer of moisturizer morning and evening protects your skin from external irritants and water loss. Look for a body lotion like Grown Alchemist Body Cream in Mandarin Rosemary Leaf, which features hydrating shea butter, jojoba oil, and free-radical fighting antioxidants.
Always floss.
The quest for that megawatt smile begins and ends with taking care of your teeth, and yes, that includes daily flossing. Dr. Lawrence Fung, cosmetic dentist and founder of Silicon Beach Dental says, "flossing gets into all the nitty-gritty cracks and crevices, removing what dentists call "interdental plaque," aka debris that hides out between your teeth." Opt for a vegan option like Cocofloss Tropical Trio, which uses polyester filament for a pain-free experience.
Exfoliate once a week.
Now more than ever, it's important to take care of your hands, and this includes weekly exfoliation. Erika Nunez, esthetician at Biologique The Ambassade de la Beauté says, "it's needed to help remove dead skin cells to remove those dead skin cells to reveal baby soft, refined skin." Try Human + Kind Hand Scrub Elderflower & Raspberry for a natural exfoliation from dried raspberry seeds.
Watch your shower temperature.
Watch your heat exposure, and we're not just talking about the sun. Inside dry heat and scorching shower temperatures can wreak havoc on your skin. "Using excessively hot water will instantly dilate the capillaries and raise the skin's internal temperature, which impairs the skin's barrier of protection," says Renée Rouleau, celebrity esthetician. She advises, "to use lukewarm water, especially in the winter when the barrier is most fragile and susceptible to damage." So before lathering up with a moisturizing and deliciously-scented body wash like the Cali Cosmetics Body Wash in Capri, make sure your shower temperature is lukewarm.
Never neglect your brows.
We all know how easy it is to get tweezer happy and start plucking everything, "but it's crucial to not overdo it, so, put down the magnifier mirror and stay away from daily tweezing. For a neat and tidy look, we suggest taking your tweezers out every three days or so," says Iman Bokolo, Cosmetify PR & Influencer Manager on the Beauty Team. Also, look for a high-quality, stainless steel pair like Summer & Rose Rose Tweezer with Pouch.
Blue tansy is your BFF.
"Blue tansy has an incredible ability to calm the skin, especially with conditions like rosacea because of its anti-inflammatory properties and it even brings balance back to the skin," explains Monica Watson, founder of berlin skin. Incorporating a nightly dose of blue tansy from Earth Harbor's MARINA Biome Brightening Ampoule will visibly brighten skin, and improve the look and texture.
Take care of your feet.
Our feet are the most neglected body part, but it's imperative to keep any dryness at bay. When our feet need to be brought back to life, we rely on H Halston Aloe Infused Gel Lined Sock & Pumice Stone to exfoliate away dead skin cells and restore moisture. We also follow Queenie Nguyen, a celebrity nail artist routine of using it in the shower, "to really exfoliate the dry skin under your feet and to prevent calluses from forming."
Do you have any body care habits or routines that you never skip? Let us know in the comments below.
xx, The FabFitFun Team
Psst! Have you signed up for FabFitFun yet? Don't miss out on seasonal boxes filled with the best products in beauty, fitness, and lifestyle, member-exclusive sales, an amazing Community of like-minded women, and more. Use code FLORALS at checkout for 20% off your first box.
To get the most out of your box products, make sure to check out the Members Only page.