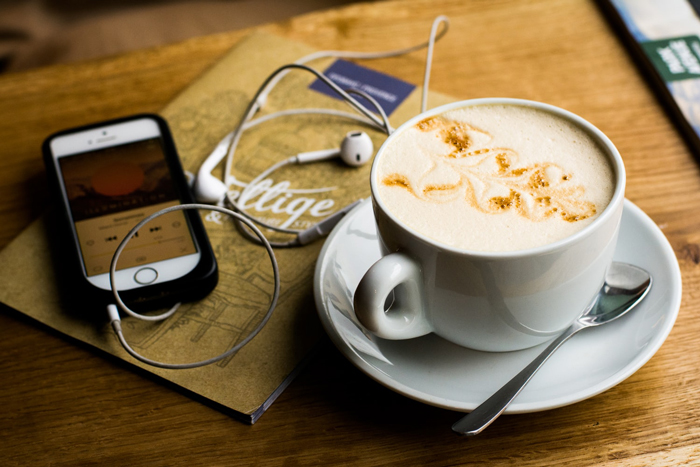 Feature Image by Juja Han
In the days of quarantine, we spend a lot of time working remotely, scrolling on our phones, and consuming the 24/7 news cycle. If you want to take a break from all that screentime, podcasts are a great way to break up the monotony of a "socially distanced" life. On your best days, a podcast can feel like your own personal hype man. On your worst days, a podcast can feel like a warm hug from a close friend. 
From celebrity interviews to social commentary and self-help advice, there are an ample amount of amazing podcasts with a variety of content available. Get your queue ready for these inspirational podcasts that will help you learn to love yourself more. You'll thank us later!
Quite possibly the safest place on the internet, if you have never listened to Girls Night with Stephanie May Wilson, you are in for a treat. Stephanie brings on an expert guest every episode to talk about a range of topics, like what to do when faced with a "friend-lationship," dealing with toxic work culture, navigating discouragement in the pursuit of your dreams, and finding true confidence. The podcast creates a space where you can cozy up in your comfiest sweats with a slice of pizza or a warm cup of coffee. You are sure to leave inspired and with practical advice that feels like it came from a big sister.
---
You are in for a sure-fired laugh with sisters and co-founders Melissa and Stephanie Carcache. Together they lead multimedia company Millennial Women, Inc. At the heart of the company is "Millennial Women Talk," a traveling podcast where the sisters uncover the challenges millennial women face and learn how to overcome them together. The focus is to provide inspiring, hopeful, and relatable content. With the pandemic, the podcast shifted to in-studio production, but the mission remains the same: providing personal and self-development resources that focus on the mind, body, and soul.
---
Pioneered by actress Yvonne Orji and New York Times bestselling author Luvvie Ajayi, "Jesus and Jollof" is a corner of brightness in the podcast landscape. With topics on adulting, self-care, communication, and conflict resolution, you are sure to leave inspired and also with a smile on your face. Bonus: these two friends are hilarious!
---
Get ready to pull a seat up at the table as if you are talking to your best girlfriends. Hosted by best friends Nicole and Marina, the GenTwenty Podcast is a mixture of research, personal experience, interviews with experts, and real talk about what it means to figure out life, love, career, and relationships in your 20s. You are sure to feel less alone as you navigate the ups and downs of young adulthood. They also have a fun blog, GenTwenty, and another for 30-year-olds, GenThirty!
---
You know her from her MTV days on The Hills, Whitney Port is all grown up and bringing her Whitney charm to conversations with experts on pregnancy, family life, mental health challenges, stress, and more. Whitney is both inspirational and down-to-earth, the type of influencer whose advice is accessible and practical.
---

If you are looking for career advice, then WorkParty is the podcast for you! Hosted by Create & Cultivate CEO, Jacyln Johnson, this is the perfect online destination for career advice for the working millennial and Gen Z woman. They cover helpful topics from negotiating, honing your pitch, closing the wage gap, and creating an eye-catching tagline.
---
Based on the internationally best-selling novel, Brave, Not Perfect brings you life advice in the form of interviews with Reshma and changemakers who share what bravery means to them and how they got to positions of leadership and influence. Reshma covers a variety of topics from bravery in the workspace, in friendship, and after failure.
xx, The FabFitFun Team