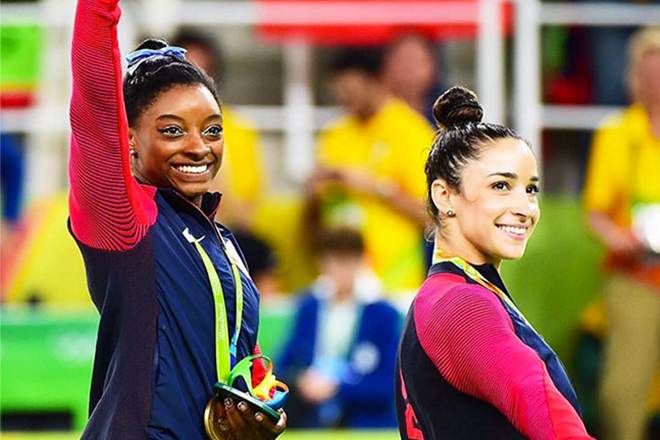 @alyraisman
Team USA has seriously been killing it at the Rio Olympics. Our women, in particular, have been crushing world records, beating personal bests, and taking home medals left and right. If that doesn't motivate you to get through the week, we don't know what will.
USA ladies have taken over the Olympic games and they have us practically glued to our TV sets. Check out 10 female Olympians who've been dominating in Rio — all we can say is #goals.
Katie Ledecky
Ledecky will be leaving Rio with not one, but multiple gold medals. She's already racked up four golds and one silver. She also became the second woman in history to win three individual freestyle events. Did we mention she beat a world record in the process?! Umm, dominating much, Ledecky? We certainly say so!
---
Lilly King
In one of the most anticipated swimming competitions, King took out her toughest competitor to take home the gold. She finished the 100-meter breaststroke race in just 1 minute and 4.93 seconds.
---
Simone Biles
Where do we even begin with how incredible this young athlete is? She's the proud owner of four gold medals and one bronze, and she hasn't failed to dazzle audiences (including Zac Efron) with her explosive power and elegant twists and turns!
---
Simone Manuel
Manuel

Aly Raisman
She  has continued to impress on the balance beam, floor and more. She had a stunning floor routine (we're talking so good she cried afterwards) and she, like the rest of us, knew she'd done her personal best. It just doesn't get better than that.
---
Fu Yuanhui
This Chinese swimmer opened up about being on her period during the Olympics and deserves a gold medal for it, if you ask us. She pretty much rules for bringing this to attention — because yes, even Olympians deal with period struggles.
---
Shaunae Miller
Miller proved she was willing to do whatever it took to win the gold medal when she dove across the finish line in the 400 meter race. She really gave it her all, and we certainly aren't mad about it.
---
Allyson Felix
Felix got beaten out by Miller's dive across the finish line, but when you're in the Olympics, second place is never a bad thing. She's still dominating the running game, if you ask us.
---
Kerri Walsh Jennings
This woman is 38-years-old and is still killing it at the Olympics. She's seeking her fourth gold medal, and with an attitude and skill set like hers, she'll be tough to beat for first place.
---
Nafissatou Thiam
At only 21-years-old, Thiam won the gold medal in Rio 2016's heptathlon. She beat out Ennis-Hill (the defending champion) in the seven-event competition. Way to go, girl!

xx, The FabFitFun Team