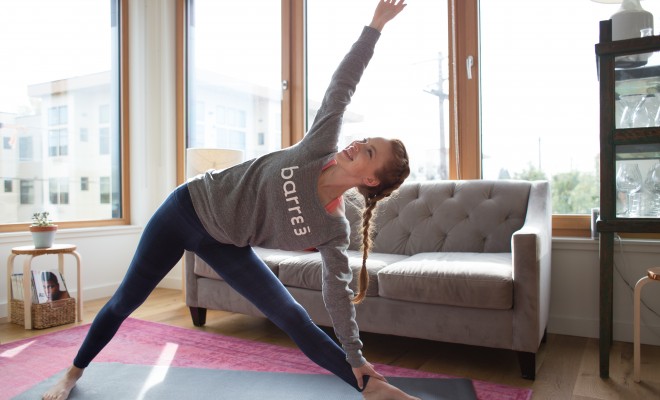 You may be on-the-go this holiday season, but have you ever noticed how much sitting around is involved in being "on the move?" From airplane rides to road trips, all of the hustle and bustle can really take its toll on your muscles.
So we're taking a stand this season. In fact, not only are we taking a stand, we're also taking a squat, a crunch, and a lunge — and we've enlisted the pros at barre3 to help! Every barre3 class works strategically to build strength and flexibility for optimal body balance and improved posture — and the best part of all is that you can do them wherever your journeys take you. (Even in your hotel room!)
Here are three workouts to get you moving this season, and they're each under 10 minutes!
Core Focus: Warm Up + Legs
Our favorite post-flight workout, this series gives you an energizing warm-up followed by a leg workout that targets your quads, hamstrings, and core.
---
Tone and Balance: Combo Work
Running short on time between holiday shopping and heading off to your holiday soirée? This head-to-toe workout targets your entire body in just ten minutes. Added bonus: The deep twist at the end releases toxins to help keep you healthy all season long.
---
Cardio Power: Core
An efficient cardio blast can help you feel reinvigorated, even after the craziest of traveling days. Try this quick series to tone your bod, work your core, and get a good burn. (P.S. You can add optional layers like knee marches and arm reaches to get even deeper into your muscles.)
xx, The FabFitFun Team