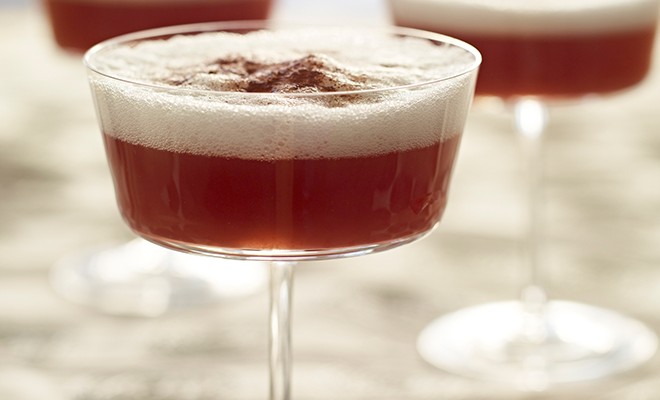 Courtesy of Kim Crawford Wines, Ruffino Wines, and SVEDKA
One of our favorite ways to stay cozy during the holidays is near the fireplace…and, of course, with a cocktail (or three) in hand.
We found three holiday-themed cocktails, courtesy of SVEDKA, which have quickly become our go-to libations as of late. The cocktails are delightfully sweet, fruity, and have just the slightest hint of bubbly for you to enjoy.
Serve these cocktails at your next holiday party or whip it up for you and the S.O. as you celebrate the holidays. Cheers!
'Tis the Season

Ingredients
1 part SVEDKA Vodka
1/2 part raspberry liquor
3 parts Ruffino Prosecco
Muddled strawberry and mint
Directions
1. Combine ingredients except Prosecco in a cocktail shaker.
2. Shake and fine strain into a champagne flute.
3. Top with Prosecco and raspberry and mint garnish on skewer.
Mistletoe Mistress
Ingredients
3/4 part SVEDKA Strawberry Colada
1 small scoop raspberry sorbet
1/4 part Ruffino Prosecco
Directions
1. Pour 3/4 serving of vodka into a saucer margarita glass.
2. Add one small scoop of raspberry sorbet.
3. Top with Prosecco and add strawberry garnish.

Spiced Moon Martini
Ingredients
2 ounces of Kim Crawford Pinot Noir
1 ounce aged rum
3/4 ounce freshly squeeze lemon juice
1/2 ounce Spiced Honey Syrup, warm
1/2 ounce egg white
Freshly grated cinnamon for garnish
Directions
1. Combine ingredients except cinnamon in a cocktail tin and shake until mixture foams.
2. Add ice to the tin and shake vigorously for 10-15 seconds.
3. Double strain into a chilled cocktail glass, top with cinnamon, and serve.
xx, The FabFitFun Team