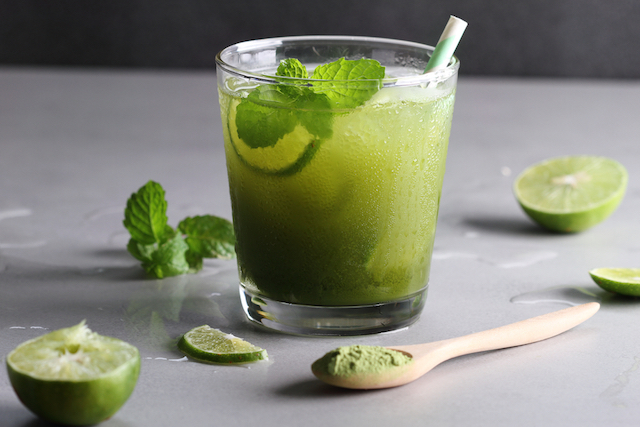 On the hunt for a healthy refresher to sip on those hot days by the pool, or on-the-go? Brace yourself for an amazing iced green tea recipe that's unique, tasty, and super easy to make!
You probably already know the fantastic health benefits of green tea, but did you know that adding lime can help you reap the benefits of those phytonutrients? Ascorbic acid (aka Vitamin C) increases the bioavailability of the antioxidants green tea, which is why we decided to make lime ice cubes. The citrus ice cubes not only enhance the flavor of this recipe, but also make you feel ultra holistic while you sip!
We always use organic green tea brands that also have matcha (pulverized green tea leaves) within the bags because they contain high doses of antioxidants.
Cheers to healthy drinking!
Lime and Mint Iced Green Tea
Ingredients
5 bags match green tea
8 cups of water, boiled
1 cup freshly squeezed lime juice
4 stems fresh mint leaves
Directions
1. Bring the water to a boil, and remove from heat. Add the tea bags to the water and steep for 13-15 minutes.
2. In an ice mold, distribute the lime juice evenly, and top each cube section with a little filtered water to fill to the top.
3. Once tea is done steeping, remove tea bags and stir in the mint leaves. (You can add honey for sweetness if you'd like).
4. Let the tea cool to room temperature, then refrigerate until the tea is cold enough to serve. Don't forget to top each drink with lime ice cubes!
xx, The FabFitFun Team