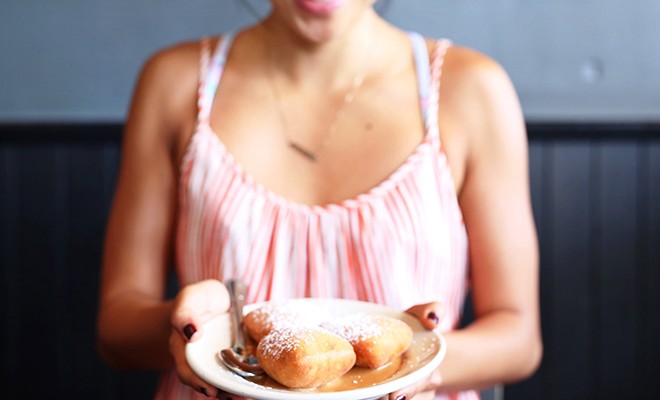 I wanted to write a post about balance and how important it is today. Sometimes when I meet people for the first time, or when I'm talking to people via social media, they seem to think that I eat healthy 100% of the time and that I'm working out 24/7! I think a lot of fitness enthusiasts get this rep — and for good reason because living a healthy lifestyle is totally crucial. But I disagree when people think that it's all or nothing. No one is perfect and no one (at least that I know) only eats incredibly nourishing meals and works out every single day. Maybe people training specifically for something, but that doesn't last forever.
It's actually very important to give your body a break and to provide it with balance. Now, I don't think I can argue that donuts or chocolate chips are ever good for your body, but they are absolutely good for our mind…in moderation! Starving yourself of your favorite foods or break days isn't healthy — and having one cheat meal (or day!) and skipping a workout to rest will not ruin all the work you've put in. Don't worry!
I definitely have cheat meals and I take one rest day a week. Some of my favorite cheat meals are uni udon, creamy alfredo pasta, In-N-Out cheeseburger and fries, and ice cream and popcorn for dessert. I do limit these meals to once or twice a week because more than that and I start feeling sluggish/feel like it's counteracting the nourishment. But my soul needs these meals and I 100 percent don't regret it because I put in the effort the whole week 🙂
It can be hard to say no to yummy meals and to resist french fries when they are staring at you in the face, so here are a few ways I stick to balance:
Choosing healthy restaurants. I love, love, love to eat out, but that doesn't mean I'm constantly having to avoid temptation. There are tons of healthy options — you sometimes just have to plan ahead. I like to look on Yelp to not only see the menu items but also pictures to plan what I'll get. Having some ideas of what I want to eat/what's healthy beforehand saves me from giving into temptation.
Meeting friends at the gym and then going to lunch or dinner! I have dates with my friends for a BBG session or a hike and then usually we crave something healthy afterward! It's a win-win.
Stocking my fridge. I try to grocery shop at least once a week so that I always have healthy options. I like to save my cheat meals for something I'm really craving and not just because I'm lazy — and having food at my house helps. I'll make a big batch of different healthy meals or juices and can grab those whenever.
Screenshotting/pinning new recipes. I've noticed that when I'm bored of recipes, I start craving something bad. To nix that boredom, I love going on Pinterest or cooking sites to find new healthy recipes. Cooking makes me so happy but I have to switch it up! I love having new things to look forward to.
So don't get down on yourself next time you have a "cheat meal" and remember that everything is OK in moderation. Living a healthy life includes taking care of your happiness, giving in to your favorite things, and taking the time to restore your muscles!
Do you guys do any of those things on my list? How do you deal with cheat meals and balance?
xx, Remi
For the latest and greatest info on health and fitness, be sure to check out rrayyme.com!
---
This story was written by a fab member of our Ambassador Network.