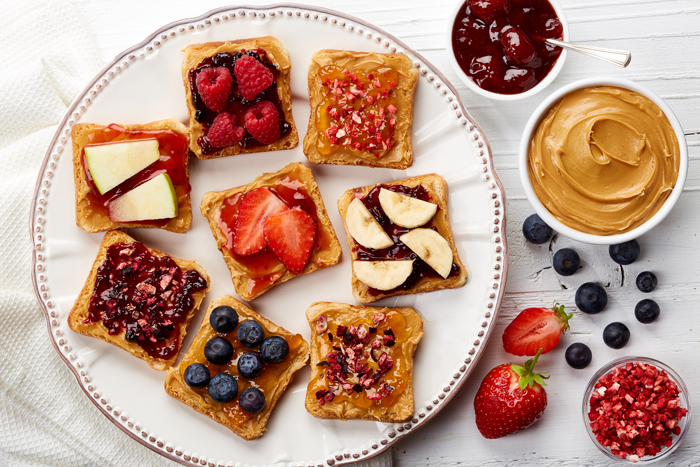 We're a few months into the year, and it's time to kick those New Year's resolutions up a notch (or you know, restart it). They say abs are made in the kitchen, but what does that actually mean?
Whether you're working out to slim, bulk, tone, or just stay healthy, experts are sharing their best tips on what to eat both before and after your workouts.
What does the body need before a workout?
As expected, needs tend to vary based on the type, time, and intensity of a workout. Marisa Michael, a personal trainer and dietitian, explains that timing is everything in pre-workout eating choices. Two to four hours before, she encourages eating a small meal that won't weigh too heavy on the stomach or throw off your digestion. If you're pressed for time and only have 30 to 60 minutes before your workout, Michael says, "look for snacks that contain carbohydrates and have less than four grams of fat, 10 grams of protein, and five grams of fiber."
Pre-workout snack ideas
According to Kylene Bogden, the dietitian for the Cleveland Cavaliers, overnight oats, smoothies heavy in fruit, and chia pudding can be great starters before a workout. Closer to the workout, Michael says, "Things like a banana, white mini bagel, one ounce of pretzels, fruit leather, eight ounces of a sports drink, a jam sandwich on white bread, or sports gummies work great." Rule of thumb: complex carbs early and simpler carbs when you're in a pinch.
What does the body need after a workout?
To repair the body after putting in work, protein and carbohydrates are both crucial, says Michael. Emily Incledon, a registered dietitian, adds, "post-workout snacks are meant to replenish your body and initiate muscle growth, and therefore should be eaten within one to two hours after the completion of a workout." Though sweating can stir up some serious munchies, Incledon encourages keeping portion sizes in control and, of course, drinking lots of water.
Post-workout snack ideas
Time is of the essence when that post-gym hunger hits. For quick and effective snacks, Bogden recommends apples with nut butter or whole-grain crackers with hummus to hit a solid macro ratio. If you have a bit more time, she recommends a protein smoothie. Her recipe consists of "eight to 10 ounces of liquid of your choice, 15 to 20 grams of your favorite protein powder, one tablespoon of nut butter, and a pinch of cinnamon."
Michael says, "A grain bowl made with quinoa, veggies, and chicken is a great option. You can also try two street tacos with black beans, veggies, and cheese paired with a piece of fruit and some chocolate milk." Alison Barkman, a registered dietitian, agrees that adding chocolate milk can help replenish electrolytes, carbs, and protein after a workout.
As always, consult your doctor or nutritionist before trying supplements or switching up your diet.
You may be killin' it in your workout but not seeing results. Here are eight ways you can power through a fitness plateau.
xx, The FabFitFun Team