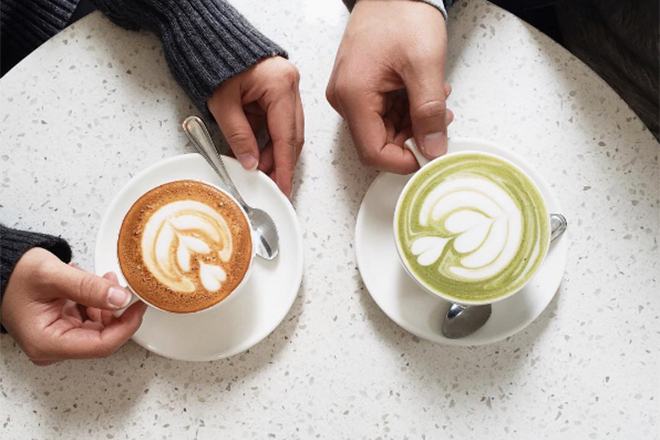 @copa_vida
A cup o' joe is great, but a beautiful cup o' latte art is even better. And it's definitely an added bonus if the coffee shop is well-curated and it's relaxing to just sit and soak in the ambiance.
We rounded up some of our fave coffee shops which are #aestheticgoals and will give you a delicious cup of coffee that's just as Insta-worthy.
Cafe Maji
Located in Artesia, California, Cafe Maji is best known for their adorable bear lattes. If you're not in the mood for a crazy caffeine kick, you can also get the cute little animal designed into a cup of matcha.
---
Eightfold Coffee
When the interior is gorgeous and incredibly minimalistic, you know the coffee is going to be good. Right in the heart of Los Angeles, Eightfold is one of the best coffee bars out there because of their Heart Coffee set up and Nutella croissants.
---
Cachito Coffee and Bakery
If you're ever in Miami, head over to Cachito, where you'll find innovative latte art in different designs, shapes, and even colors.
---
Copa Vida
Dining at Copa Vida is such a luxe experience in itself. With three SoCal locations, their goal is to serve the community around them with good, beautiful cups of coffee, delicious food, and a great atmosphere.
---
Happy Bones
Bloggers absolutely love this spot. The interior is on point, coffee is totally delicious (and picture-worthy), and they have tasty pastries, too.
---
Highlands Cork and Cafe
If you take your coffee heavy on the whip, this cafe in Denver is for you. This quaint spot makes sure you'll get a cup of joe that hits the spot and looks good at the same time.
---
Paper Co
Paper Co in Houston offers beautiful cups of coffee in a bright atmosphere. Even the iced coffees are just as beautiful as the hot lattes.
---
Philz Coffee
If you really want to take your coffee up a notch, head to Philz coffee in either Los Angeles or San Francisco, and get one of their mint mojito iced coffees —- it's so refreshing as it is beautiful.
xx, The FabFitFun Team