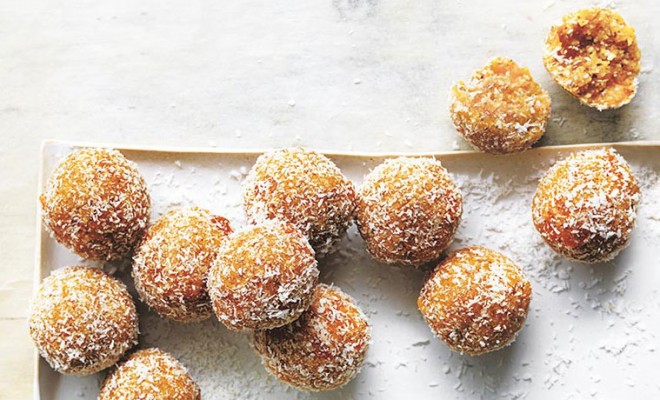 donnahay.com.au
We love traveling, whether it be a weekend in a cute town or a month exploring another country.
But one thing is for sure: the actual process of getting to the destination can be gruesome…because no amount of free movies and in-flight wifi will counteract the amount of complimentary sodas and salty processed snacks you consume throughout your flight.
So the next time you're in the air, easily make and pack the healthy yet delicious snacks below.

Trail Mix with Coconut and Dark Chocolate
Trail mix is the perfect airplane snack (no, not the packs they offer in-flight). It's delicious, easy to make at home, and completely customizable! Don't like almonds? Swap 'em out for pumpkin seeds! Avoiding sugar? Ditch the chocolate and replace with cocoa nibs.
---
Spinach and Cheese Lunchbox Muffins
Why aren't savory muffins more popular? It's easy to transport, so simple to make, and packs a lot of nutrients unlike the airline's cold ham and cheese sandwiches.
---
Maple Tamari Roasted Almonds
Coating tamarin almonds with maple? Yum! Once you've tried these, you'll never want to munch on complimentary almonds again.
---
Cinnamon Apple Chips
It's a common misconception that apple chips can only be made in a dehydrator. Apple slices can actually crisp perfectly in a low oven and it makes an ideal travel snack.
---
Coconut, Chia, and Apricot Bliss Balls
These little balls are packed with sweet flavor and healthy fiber. We recommend bringing a few extra in case the person sitting next to you starts eyeing them enviously.
---
Unbaked Brownies
Think chocolate automatically means unhealthy? Well, think again. These indulgent brownies are made from walnuts and dates, without any sugar, butter, or white flour in sight.
---
No-Bake Superfood Granola Bars
Store-bought granola bars are delicious, but often include things we'd rather not have in our food, like corn syrup and preservatives. These homemade bars have all the same flavor with the added bonus of knowing exactly what goes into it.
---
Healthy Banana Bread!
Yes, you could just bring a banana for the fight, but a big chunk of banana bread is even better.
xx, The FabFitFun Team