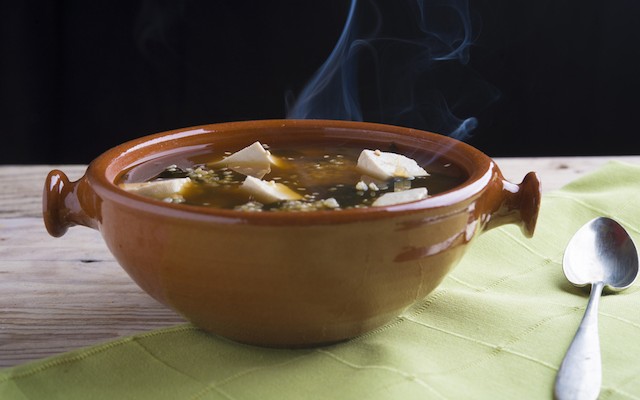 Can you remember the last time you indulged in your favorite sushi rolls without pregamin' with a hot bowl of miso soup? We can't. Miso soup is one of those simple meals that's just oh-so delicious and satisfying.
We're bringing you a miso soup recipe so good, you'll forget you're eating it at home and not at your go-to sushi spot. One quick tip, though, is to make sure to not add the miso paste too soon because your soup may end up tasting too gritty. Other than that, it's a quick recipe loaded with vegan protein that anyone will enjoy!
MISO SOUP
Ingredients
1/4 cup miso
1 tablespoon dried Wakame seaweed
1 tablespoon low sodium soy sauce
4 ounces silken tofu, cut into ½ inch cubes
2 teaspoons instant Dashi
3 tablespoons scallion, thinly sliced
7 cups water
Water in bowl to soak seaweed
Directions
1. In a small bowl, soak the wakame for 30 minutes, until the seaweed is reconstituted. Soak when it's a good time to prep other ingredients.
2. In a pot, pour water and bring to a boil. Add the Dashi and mix until it's dissolved, then reduce heat and add the tofu.
3. Take the seaweed, (liquid strained), and add to soup. Let cook for 3 minutes.
4. Turn off heat, and add soy sauce and the miso paste and whisk immediately until all the miso paste has dissolved.
5. Top with scallion and serve hot.
xx, The FabFitFun Team