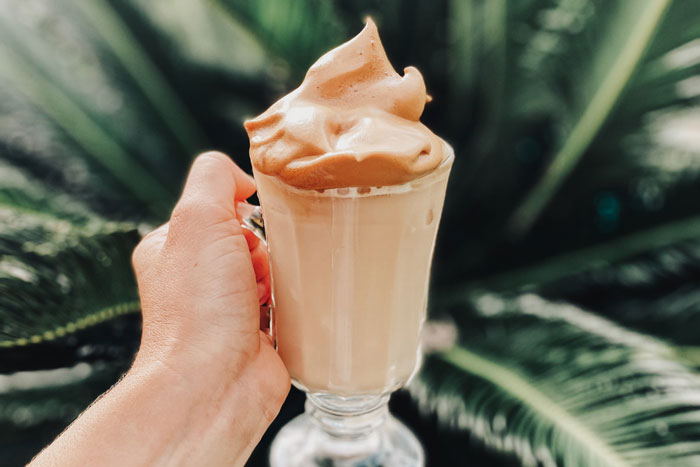 Feature Image by Chelsea Audibert
TikTok is the newest social media platform to take over the world and with good reason. While it's a funny video platform with videos of dance challenges and lip-syncing, it can also be a discovery platform of makeup hacks, home construction, and even unique recipe ideas.
We've especially been intrigued by the handful of recipes that have gone viral across the app and has since trickled its way onto Instagram and YouTube as well. Below, we're sharing the viral recipes that are actually worth trying (spoiler alert: they taste so good!).
There's a good chance that you've seen the 'gram-worthy whipped coffee all over social media. All you do is whip sugar, instant coffee, and water together to create a whipped consistency. Then pour it over your milk of choice!
---
Have you ever wished there was a cereal that tasted like pancakes? Well, TikTok has granted that wish. Just put your pancake mix into a squeeze bottle, squeeze mini pancakes into the hot, greased pan, and then put them all in a bowl with your milk of choice. You can also just eat it with a serving of butter and a drizzle of syrup.
---
This breakfast burrito is all the rage as this hack makes it almost too easy to put together. Just place a tortilla on top of your scrambled eggs, flip over, and add your other ingredients.
---
We know what you're thinking…carrots are not bacon. But TikTok somehow took carrots and made it resemble our favorite breakfast meat. You just need thinly sliced carrots and lots of spices!
---
Yes, all you need is five simple ingredients to make these delightful peanut butter cookies. So easy!
xx, The FabFitFun Team