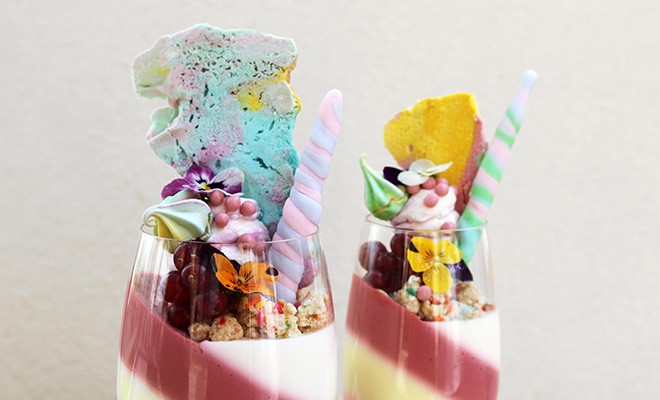 Terranea Resort
With Starbucks whipping up the Unicorn Frappuccino to beauty brands releasing unicorn-inspired makeup products, it looks like this magical trend isn't disappearing anytime soon.
Not only that, tons of colorful treats inspired by the mystical creature have been popping up left and right — and we're not complaining. Browse through some of our favorite whimsical treats and maybe even recreate some for yourself!
Unicorn Parfait
This parfait is the cherry on top to the perfect summer getaway. This colorful dessert by Terranea Resort starts with pannacotta, strawberry, banana, blackberry and coconut yogurt, topped with Chantilly cream, and adorned with meringue, edible flowers, and additioal unicorn décor to create the most 'gram-worthy treat.
---
Unicorn Poop Cupcake Cones
If this is what unicorn poop looks like, count us in. Whip this up with your kids on a Sunday morning or when you're in the mood for a little pick-me-up. If you're not really into sweets, at least the vibrant colors will brighten your day!
---
Magical Unicorn Cocktail
Who says a cocktail isn't dessert? The sparkling wine paired with the sweet cranberry-raspberry juice makes for the most delightful drink ever (like, ever). If this isn't enough, the unicorn decor takes the cocktail to a whole new level that can't be beat.
---
Unicorn Tiramisu
As if we didn't love tiramisu enough, the classic dessert got a full makeover by Hotel De Anza — and we're obsessed. This is what happens when the unicorn trend takes over and you add an edible rainbow and frosting clouds on top of an already delectable dessert.
---
Unicorn Dip
Whether you're in need of some comfort food or it's that time of the month again, this unicorn dip might be the one to curb that craving. It combines the flavors of cream cheese and the sweetness of marshmallow fluff for a dip that pairs perfectly with your favorite crackers and cookies.
---
Unicorn Frappuccino
Whether you loved it or you hated it, we had to include this one because we were one of the many who ordered this instead of our usual cold brew. If you weren't able to get your hands (or your taste buds) on it before it ran its course, you're in luck — people are sharing their DIYs for this colorful drink so you can recreate it all year long!
---
Unicorn Chex Mix
Toss this together at your next girl's night in for a colorful snack everyone can munch on (and probably take pictures of). Grab a bag of Chex crackers or anything similar and stir in your favorite frosting. Then sprinkle it with pink, purple, yellow, or blue sugar crystals for a quick and easy dessert option!
---
Unicorn Fudge
A dessert list is never complete without some sort of chocolate. This unicorn fudge is a sugar lover's dream and completely customizable. Stock up on everything in the baked goods aisle and get creative!
---
Unicorn Float
Impress your friends with a fancy drink that's actually easier to make than you think. Pour some club soda (preferably cranberry) into a glass and throw in as many scoops of rainbow sorbet as your heart desires…and voilà!
xx, The FabFitFun Team