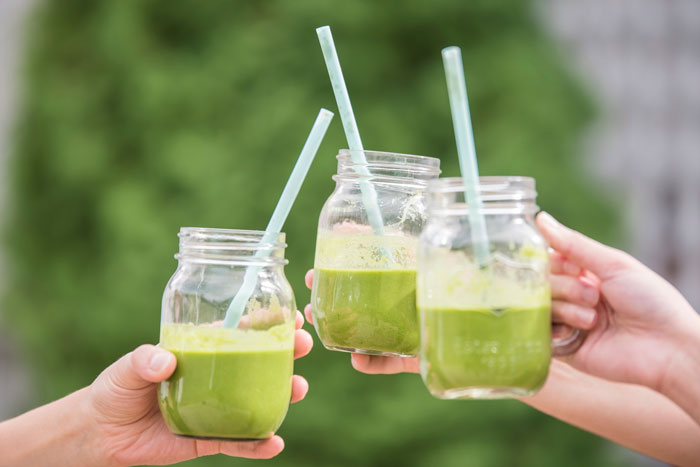 Feature Image by Jose Soriano
Probiotic granola, CBD chocolates, oat milk – the leading health food trends emerging in 2019 are intriguing, to say the least, but are they really good for you?
Here's what nutritional experts have to say.
CBD-infused foods
The non-psychoactive compound found in hemp and cannabis plants is advertised as a cure-all for everything from anxiety to epileptic seizures, but is CBD really that effective? Renowned dietitian Keri Glassman agrees that CBD does have the ability to keep you calm and relieve body aches, but she recommends an oil-based product to really feel the effects. "Choose a product suspended in oil, like coconut oil, and administered under the tongue."
Collagen powder
Dr. Mark Moyad, the author of The Supplement Handbook, agrees that collagen supplements can keep you healthier as you age. However, you don't necessarily have to spend a lot of money on trendy collagen drinks. "Cheap grocery store gelatin, which is derived from animal collagen, may be just as good for your joints and skin as pricey supplement powders," he says.
Celery juice
Coined by celebrity nutritionist Anthony William (aka The Medical Medium), this health food craze is touted as an effective way to remove toxins from your body and speed up cell recovery. According to Glassman, "There's little scientific evidence that proves the long-term health benefits of celery juice. [However], there have been many claims that people do feel better when it's part of their daily routine."
Shelf-stable probiotics
Gut health has become so trendy that more and more snacks have been adding probiotics to its ingredients list. But are probiotic-infused granolas and protein powders as effective as capsule supplements? Registered dietitian nutritionist Frances Largeman-Roth says, "As long as the product guarantees that it has billions of live probiotics, it should be offering similar benefits as fermented dairy."
Oat milk
This plant-based milk alternative quickly gained traction ever since it was spotted on Pinterest 100. Dietitian nutritionist Brierley Horton points out that while oat milk is delicious, it isn't necessarily healthier than other milk alternatives. "Oat milk has more calories than, say, almond milk and even more so than skim milk, but it's actually not too far off from a one or two percent milk from a calorie standpoint," Horton says. The healthiest way to enjoy oat milk, according to Horton, is to make your own. Beware of store-bought brands with added sugars!
xx, The FabFitFun Team
Curious about what else is trending on the food front? Here are the top 10 food trends of 2019.