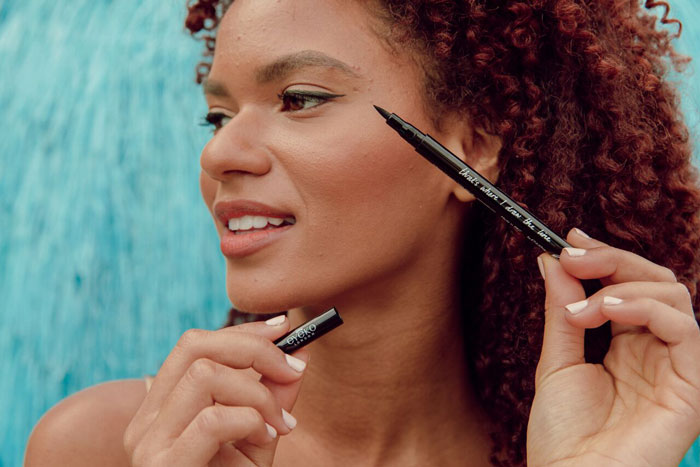 SUMMER 2019 BOX PARTNER
Eyeliner isn't one-size-fits-all, and determining the unique eyeliner style for your eye shape can totally enhance your finished makeup look. Luckily, the Eyeko London Eye Do Black Liquid Eyeliner makes applying any eyeliner look so easy. The universal eyeliner is perfect for any eye shape and glides on smoothly with a single stroke. Plus, it's carbon black and waterproof, which means no smudging on the waterline (yay!).
Now that you've discovered one of the best eyeliners on the market, follow the YouTube tutorials below on how to best apply it for your eye shape.
Deep Set Eyes
You've got a fierce brow bone that makes your eyes appear smaller, and deep-set eyes appear to be further back in the socket. How do you fix it? Try to thicken your eyeliner toward the outer half of your eye.
---
Round Eyes
Bat those beautiful lashes babe! Even with your eyes open, the world can see your crease clearly. There is also a noticeable white under the iris of your eye.
---
Downturned Eyes
The gal with the downturned eye shape has eyes that drop at the outer corner. Make your eyes pop with an eyeliner routine that lifts and enhances the outer eye.
---
Monolids
The monolid eye shape has no discernable crease, flat lids, and a less prominent brow bone, so applying a thick layer of eyeliner will do the trick for accentuating your eyes.
---
Wide Set Eyes
With wide set eyes, you'll have a noticeably larger space between the inner creases of your eyes. Keep the eyeliner heavier toward your inner creases to create a balanced look.
---
Almond Eyes
For the ladies whose irises are covered at the top and bottom by your lids, chances are that you have almond eyes. Your eyelid may be pretty asymmetrical so follow the natural shape of the eye.
---
Hooded Eyes
When you open your eyes, you'll notice that the lid tends to be covered and that you have less eyelid space. One great tip for hooded eyes is to thicken your eyeliner towards the outer edges.
---
Close Set Eyes
For those of you with little space between the inner corners of your eye, start your eyeliner in the middle and extend it beyond your eye on both the bottom and top lash lines.
---
Upturned Eyes
If you were to draw a horizontal line across your eyes and the outer edges were pointed upward, then you have upturned eyes. Help balance out the beauty by tracing the line from the last lash of the lower lash line.
---
Asymmetrical Eyes
If your right and left eye shapes are not identical to each other, adjust your eyeliner technique for each eye to help give a more symmetrical look.
xx, The FabFitFun Team
Psst! Have you signed up for FabFitFun yet? Don't miss out on $200+ in amazing beauty, fitness, fashion, and lifestyle products, access to exclusive fitness and cooking content on FabFitFunTV, members-only sales, and more. Use code SUNFUN at checkout for 10% off your first box. #yourewelcome
To get the most out of your box products, make sure to check out the Insider page.