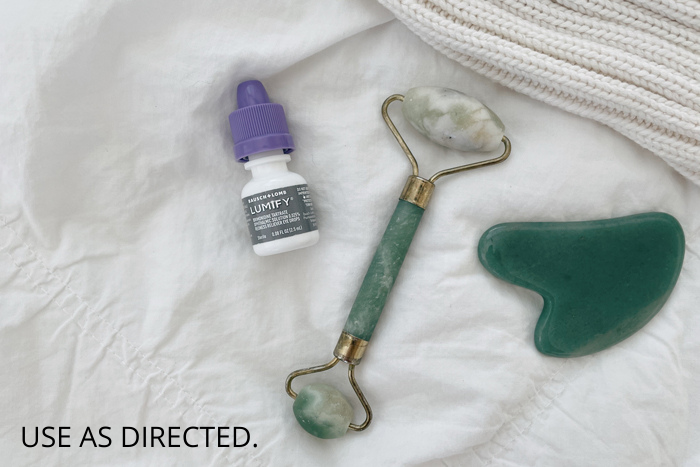 SPONSORED BY Bausch + Lomb, the makers of LUMIFY® redness reliever eye drops
What a dream it would be to receive eight hours of sleep every single night, and according to the National Sleep Foundation, that is the ultimate sweet spot. Adults should aim to receive at least seven to nine hours of sleep per night to maintain a healthy lifestyle.
However, we know that when life appears to slow down for no one, we're lucky to squeeze in five hours of sleep at best, and it shows. Lack of sleep is displayed in the form of heavy eyes and dehydrated skin, and sometimes it feels like there is no escaping it.
If you're looking for tips on getting better sleep, we actually covered that here. These suggestions will help you feel well-rested, but we know you might need immediate advice on appearing well-rested.
If you're falling behind on sleep, here are some ways to show some love to your skin while also achieving a well-rested look.
Reduce eye redness!
If you had a late night, your eyes could be a dead giveaway that you didn't get enough sleep. Even if you did get plenty of shut-eye, you may still wake up to red eyes, which totally negates all of the efforts you put into looking well-rested. LUMIFY® redness reliever eye drops start working in one minute to reduce redness to help eyes look refreshed and more awake. The next time you wake up and notice your eyes are red – give LUMIFY a try. Just one drop helps eyes look whiter, brighter, and more vibrant for up to eight hours. 
Massage with gua sha
Gua sha is a technique in which you apply pressure to the skin and massage (or scrape) it out. For the face, you would typically opt for a small facial tool widely in the form of rose quartz, quartz, or jade. Gua sha comes from the Chinese word scraping and is a technique that applies pressure to the skin to relieve tension. While your skin may appear red at first, your skin will begin to feel rejuvenated and look more awake!
Tie your hair back
When you pull your hair back in a cute ponytail or bun, it tends to pull the face up and back, giving off the appearance of a facelift. While we don't recommend getting a facelift to appear awake, this easy technique can serve as a quick fix if you need to appear alert and pulled together for a virtual meeting.
Try an ice roller
What gives away a true too-tired look is swelling. Have you ever woken up with a puffy face? Same here. Try using an ice roller to alleviate some of the swelling. When you apply something that's been chilling in the freezer to your puffed skin, it helps to boost circulation, bringing blood to the surface. This helps to reduce puffiness and redness. 
Want to give these eye drops a try? If you're a FabFitFun member, you can add the drops to your cart for free when you shop Summer Add-Ons.* Check out the sale dates below!
Annual Members
Opens on Thursday, May 6, 2021 at 9 a.m. PT
Closes on Monday, May 10, 2021 at 11:59 p.m. PT
Seasonal Members
Opens on Thursday, May 20, 2021 at 9 a.m. PT
Closes on Monday, May 24, 2021 at 9 a.m. PT
xx, The FabFitFun Team
**Available while supplies last to U.S. Members only. One LUMIFY® Redness Reliever Eye Drops bottle (2.5mL) per person. You must add the item to your cart. If your cart drops below $15 USD, your LUMIFY drops will be removed. LUMIFY is a trademark of Bausch & Lomb Incorporated or its affiliates. ©2021 Bausch & Lomb Incorporated or its affiliates. LUM.0100.USA.21