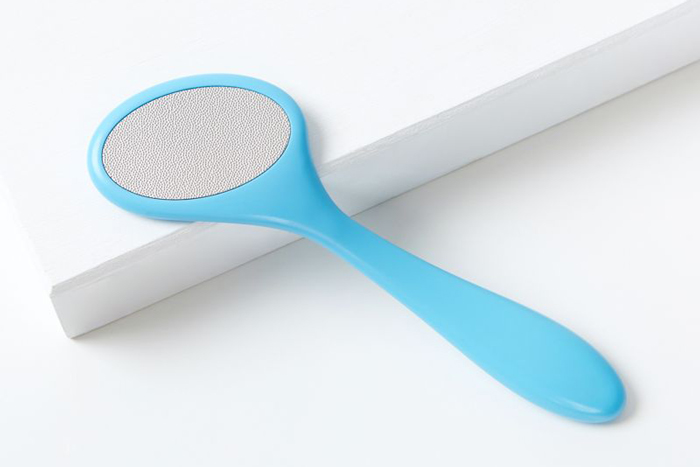 The warm weather is starting to make an appearance, which means that sandal season isn't too far behind. It's time to start tending to your feet! 
While it's not so glamorous, it's easy to neglect your feet as part of your beauty routine. We usually think that pretty, painted toenails is all it takes to care for our feet — but it's not.
There's a lot of other issues, most notably calluses and dry, dead skin that linger on the balls and heels of your feet. Plus, your feet go through a lot on a daily basis, from walking rough terrain, enduring sweaty shoes, and constant walking, so they deserve some TLC.
One easy and seamless way to care for your feet and get them in tip-top shape is by using a foot file. And we're breaking down everything you need to know below
What is a foot file?
A foot file is similar to a pumice stone and is usually made of metal or sandpaper. They easily, safely, and effectively remove calluses, dry, rough, and dead skin from the bottoms of your feet. With some gentle scraping of a foot file, your feet will feel and look much smoother. 
One of our favorite foot files, featured in the Summer Box, is the Barefoot Scientist Smooth Things Over Pedicure File. This foot file is made with premium stainless steel and is double-sided: one side is grittier to help effectively exfoliate the skin while the flip side is very smooth to soften the skin after you're done filing. 
How do you use it?
The best way to use a foot file is on damp feet after a shower or bath. Gently glide the file in circular motions to remove calluses and dry skin. Apply as much pressure as you deem fit to get the amount of exfoliation you need. After you're done, rinse the file with warm water and soap. Then let it air dry.
Your feet will be thanking you for this new addition to your self-care routine! 
xx, The FabFitFun Team