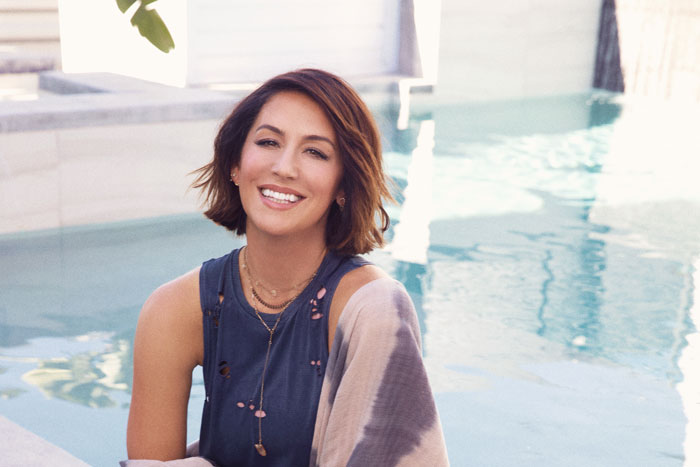 Karena Dawn founded Tone It Up with her best friend and business partner Katrina Scott to offer a fresh, fun approach to fitness and health. Now, they've built a strong community of women of all ages who uplift one another to be fit, healthy, and happy. But before TIU, you may not know that Dawn struggled with depression and worked hard to pull herself out of a 10-year slump. Below, Dawn shares the exact moment when fitness changed her life.
As a trainer and the co-founder of Tone It Up, I've heard from women around the world about how fitness has changed their lives. For me, fitness saved my life. When my life became challenging during my teenage years — my mother was diagnosed with a serious mental illness — I turned inward and began going down a path of self-destruction. For the next 10 years, I didn't treat my body with the respect it deserved. I ate poorly, stopped being active, and I started taking drugs as an escape from the anger and depression I felt.
View this post on Instagram
Eventually, I reached a breaking point, and I knew I had to choose a path — continue toward a shaky future or make a change where I took control of my life. I thought back to a time when I was truly happy, and I realized it was running that half-marathon at 12-years-old. And, so, I once again embraced fitness. I ran my first triathlon, started doing yoga and meditation, and became a certified personal trainer. Through fitness, my own determination, and the power of positivity, I rediscovered my self-worth and inner light.
That is why fitness, for me, is about more than the physical benefits. I work out for my body, mind, and spirit. I exercise to feel physically stronger, push my limits, and keep my body healthy. Perhaps, more importantly, I work out for how it makes me feel in my mind and heart. Every time I step onto my mat, it releases anxiety, shifts my perspective, and opens my mind. I can experience this beautiful world around me more fully and appreciate my relationships that much more when I'm active.
View this post on Instagram
I encourage every woman to find her "why" in fitness. What is that deeper reason that brings you to your mat? What fuels you? Once you dig deep and explore that within yourself, that's when transformation truly happens.
And I want you to know that whatever you're going through and wherever you are in your journey, you are enough. Your self-worth isn't dictated by your circumstances or what others think of you; only you can define who you are and what you need. You deserve every beautiful thing this world has to offer — and you are worth it.
xx, Karena Dawn
Want more from The Fabbys honorees? Click here for exclusive Q&As and guest articles.