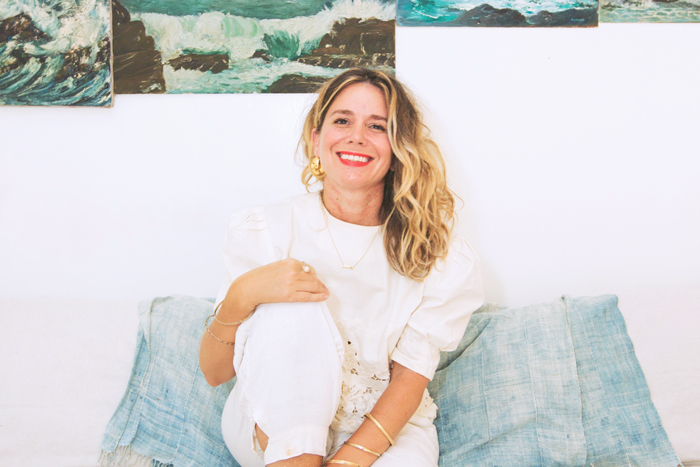 Jen Gotch is the founder and chief creative officer of ban.do, a lifestyle brand that's all about fun and happiness. More recently, she's been a mental health advocate who is candid about her struggles in the hopes that others can feel less alone.
In our exclusive interview, Gotch gets real about female entrepreneurship, authenticity, the definition of success, and more.
View this post on Instagram
Why do you think it's important for women to be in positions of leadership?
I think women bring an exciting level of emotional intelligence to leadership that will change the way organizations (and the world) are run.
What does success mean to you?
I feel successful when I am tapped into joy regardless of the positive and negative circumstances in my life.
What kind of legacy do you hope to leave for women in your industry?
I hope to leave a legacy of self-awareness, open-heartedness, and the confidence and comfort to be your own person.
What's the best advice you could ever give?
I always encourage people to build their self-awareness and emotional intelligence as those have both been huge contributors to my own personal and professional success.
What's the best advice you've ever gotten?
"You should be writing this down."
View this post on Instagram
How do you drown out the negative criticism and stay authentic to yourself?
I feel pretty lucky to not have a ton of external criticism to deal with. On the other hand, I am housing (in my own head) one of the worst critics around, so managing self-criticism has been a main focus of mind over the past year. Being able to put some distance between those thoughts and my reaction to them, and identifying that they are just thoughts and not ultimate truths, has helped me tremendously.
How do you define happiness?
I think of happiness as a byproduct of joy – joy is a strong positive connection I feel when I'm tapped into my truest self. It comes through as brightness, warmth, lightheartedness, and, of course, happiness.
When things get crazy, what's one thing you always remember to do for yourself?
Breathe! Taking a moment or several moments to focus on my breath always puts me in a better place mentally and physically.
What's the last movie or book you've read that made you feel empowered?
Gifts From The Sea by Anne Morrow Lindbergh.
What's the first thing you do every morning?
Hug my dog, Phil.
What's the last thing you do every night?
I think about five things I am grateful for (while watching an episode of Schitt's Creek).
xx, The FabFitFun Team
Want more from The Fabbys honorees? Click here for exclusive Q&As and guest articles.