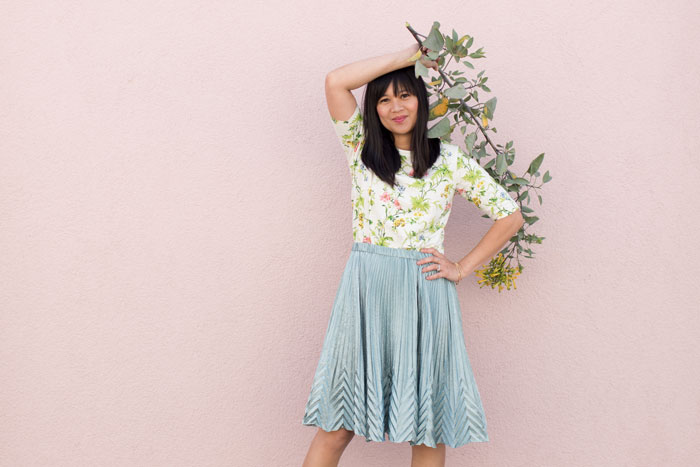 Joy Cho is the founder and creative director of Oh Joy!, a graphic design studio turned full-fledged lifestyle brand. She also authored three books and is the most followed account on Pinterest (13 million followers and counting).
Here's how this leading #ladyboss defines success and happiness, stays authentic, and more.
View this post on Instagram
Why do you think it's important for women to be in positions of leadership?
Every generation of kids looks to their parents and adults around them to model what's possible. Women need to be in leadership roles because not only can they do it, but they can do it well (hello, best multitaskers ever!). [Plus], women in leadership will only help foster more women in leadership in the future as young girls and boys see strong women helping to create change, [being] in charge, and making the world better.
What does success mean to you?
Success means that at the end of each day, I have made someone's life better and happier – whether that's the people who get joy from the content and products we create or if that's joy that my family and friends feel by something I have done with them or for them.
What's the best advice you could ever give?
You be you. It's easy to compare yourself to others or feel jealous of others' success, especially with social media, which allows us to see into others' lives so much easier these days. But remember that you have your own unique talents and strengths that only you have to offer the world. Let someone else's success fuel your fire to create something amazing in your own.
What kind of legacy do you hope to leave for women in your industry?
I want to show women that you can create something from scratch, pave your own way, and you can do it all while being kind to other people at the same time.
View this post on Instagram
Who are the women you think paved the way to where you are now?
There are truly so many. For me, Asian-American women who I saw early on as role models making change and using their voice to share information like Lisa Ling and Connie Chung. Within the world of fashion, Kate Spade was the ultimate for me of growing a brand and taking it to a level beyond what anyone expected.
How do you drown out the negative criticism and stay authentic to yourself?
I always think about how I feel when I let myself get caught up in negativity or insecurity. I also feel worse. So, I try to give myself the grace to think through the feelings but to also let it pass through and not linger around.
How do you define happiness?
Happiness is the feeling that life is generally good. We are healthy, safe, and happy – we should be so grateful for that!
When things get crazy, what's one thing you always remember to do for yourself?
Get monthly massages!
Want more from The Fabbys honorees? Click here for exclusive Q&As and guest articles.
xx, The FabFitFun Team