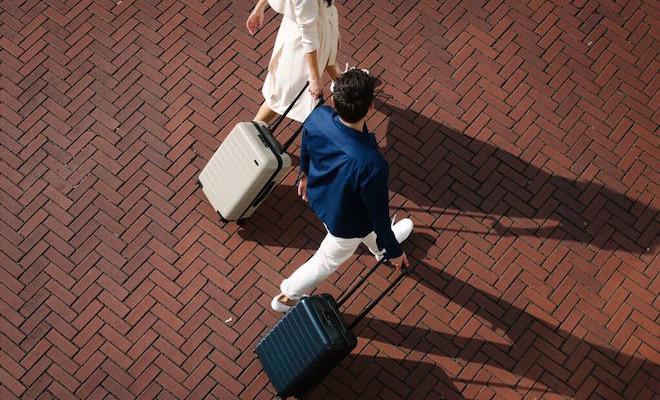 Top image: Clarke Tolton
We'll be the first to admit that overpacking is one of our weaknesses. A gal can never have too many pairs of wedges…right? But in true jet set fashion, it's a lot easier to pack everything in a carry-on. Yes, as in one small carry-on. If we can do it, you can too!
And if you're stumped on how to pack, we tapped Jen Rubio and Steph Korey, founders of Away (aka the most coveted luggage out there), for some uh-mazing pointers. They designed their carry-on with people like us in mind. Think a compression system to ensure you can pack way more, a built-in battery to charge any USB device on-the-go, a built-in laundry bag, and much more.
The Best Carry-On Packing Tips
Always bring a blarf (a hybrid blanket-scarf) to stay warm on cold plane rides while looking great and avoiding the questionable sanitized airplane blankets.
Shoes take up the most space, so prioritize packing day-to-night options like flat sandals.
Bring a bathing suit no matter what your destination is — it takes up minimal space and you just never know.
Always bring a fully charged portable power bank for when you land, because finding an outlet in an airport can be nearly impossible. (We love that the Away Carry-On has one built-in.)
If you check a bag, carry on what you need for the first 24 hours regardless, you don't want to tempt fate (or the baggage handlers).
Do not listen to the roll packers! Always flat pack, and use a compression pad to keep everything in place.
Use an extra bag for your laundry to keep your sweaty gym clothes and wet bathing suit totally separated from tomorrow's outfit and wrinkle free!
xx, The FabFitFun Team