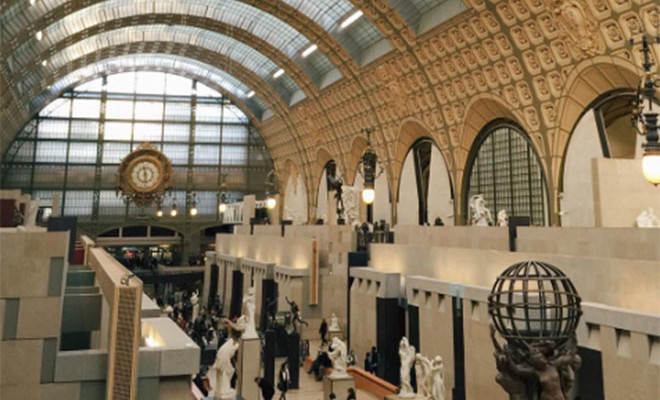 @monichang
We live in a world that is diverse, unique, and beautiful. Beauty is measured in many different ways and it's defined differently from person to person. For some, beauty is found in nature, and for others, beauty is found within the walls of a museum.
Museums across the globe contain beautiful works of art that are definitely worth traveling for. From the Mona Lisa in France to the La Guernica in Spain, you have to visit these museums at least once in your life.
Musee d'Orsay in Paris, France
Musee d'Orsay contains the largest collection of impressionist and post-impressionist works of art by artists including Van Gogh's Self-Portrait and Renoir's Dance in the Country. You'll be impressed by the interior of this museum alone!
---
Dali Museum in St. Petersburg, Florida
Located on the coast of Florida, this museum has seven of Dali's greatest known masterpieces — notably, The Discovery of America by Christopher Columbus and The Hallucinogenic Toreador.
---
Natural History Museum in London, England
This museum houses around 80 million specimen from all over the world! Some of its most famous and most prominent in size include Dippy, a Diplodocus carnegii dinosaur skeleton, and a blue whale skeleton. Wow!
---
Guggenheim Museum Bilbao in Bilbao, Spain
One of four museums with the name Guggenheim, this museum in Bilbao was built in 1997 and considered one of the most important structures of its time. It's known for its large works and installation pieces such as Puppy by Jeff Koons.
---
Royal Ontario Museum in Ontario, Canada
One of the largest museums in North America and Canada, the Royal Ontario Museum has two prominent galleries. One is focused on Natural History and has a bat cave with live bats! The other features Egyptian mummies and architectural pieces from China as it focuses on World Culture.
---
Museum of Islamic Art in Doha, Qatar
This museum was designed to embrace the old and new architecture, incorporating geometric shape and sleek lines to become an iconic part of Doha's landscape. Inside, the museum is home to islamic art pieces in glass, ceramic, metalwork, jewelry as well as textiles and manuscripts from three continents spanning twelve centuries.
---
Hermitage Museum in St. Petersburg, Russia
Hermitage Museum was founded in 1764 by Catherine the Great and one of its five buildings, the Winter Palace, was home to the Russian Tsars. Now, this museum is home to many antiquities and archeological artifacts from Egypt and classical Greece to Rome. It also holds European applied and fine arts, has an armory, and of course it is rich with Russian art and cultural pieces.
xx, The FabFitFun Team