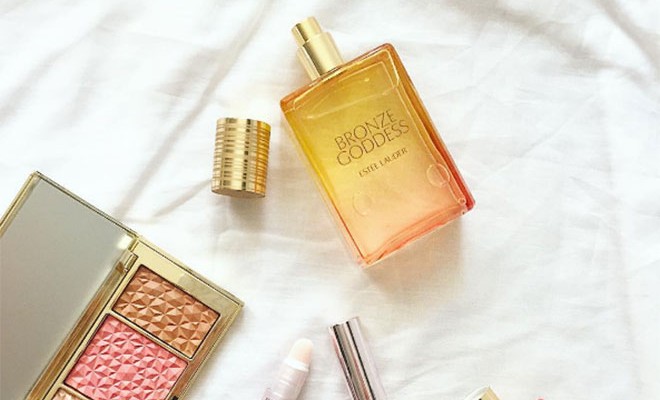 @totallybeautyaddict
Smelling like you came straight from the beach is nice, but it's time to find that perfect spritz to make summer even sweeter and sexier.
We found the best summer fragrances that'll help keep the sweat at bay and keep you smelling delicious all season long!
Kate Spade Walk on Air $75
If you're looking for something soft and floral-y, then you'll fall in love with this Kate Spade scent. It's a beautiful, delicate blend of bergamot, lily of the valley and magnolia. It's basically a bouquet of flowers in a (a very pretty) bottle!
---
Balenciaga Balenciaga Paris $145
Summer is all about hitting the beach and Balenciga will definitely take you there. This clean and fresh scent was actually inspired by the ocean — which we can't never enough of.
---
Estee Lauder Bronze Goddess $65
If you're craving something a bit sweet and exotic, then Bronze Goddess is a
must-have. This fragrance is a fusion of amber, coconut milk, and vanilla — a delicious blend that will totally remind you of a tropical getaway.
---
Philosophy Live Joyously $22
Besides the gorgeous ombre bottle, you'll be obsessed with this perfume after a single spray. It's a light mix of citrus, jasmine, and musk that will lift you up instantly and keep you feelin' sultry on those hot summer dates.
---
BVLGARI Aqva Divina $70
The seashell-shaped, rose gold bottle offers more than just a pretty face. With notes like pink ginger, magnolia, and salty bergamot, this will be your favorite night time fragrance. It's spicy, sexy, and oh-so sultry.
---
Marc Jacobs Splash: Cucumber $62
It's called Splash for a reason — this scent is amazing for the hot summer months. The crisp cucumber is so cooling and refreshing, you'll want to spritz it on your face.
---
Tom Ford Fleur de Portofino $225
This fragrance is inspired by the cascades of white flowers that spill off the branches of the white acacia which is found in the Mediterranean gardens. Infused with acacia honey and fresh citrus, this captivating scent will have you wanting to spray it from sea to shining sea!
---
Dolce & Gabbana Dolce Floral Drops $84
If you want to know what Dolce Floral Drops smells like, just think of a beautiful garden. Made with a fresh medley of neroli and white daffodil, it's made for the girl who just wants a spritz of floral.
---
Salvatore Ferragamo Emozione $95
For all you sweet lovers, take a sniff of this amazing fragrance. Emozione is mixed with a luxe peach, peony, and patchouli and we're thinking it'll make you feel all the good emotions.
---
Ralph Lauren Ralph Love $42
When it comes to summer fragrances, Ralph Lauren never seems to disappoint. Ralph Love is a sweet blend of cotton candy, apple, and pear. Sounds delicious, right? Indulge in all the sweets without the consequences.
---
Paris Hilton Gold Rush $60
Gold Rush is your fragrance of summer if you want a more sophisticated scent. Launched this past month by Paris Hilton, we're ub-sessed with the notes of vanilla, praline, and the fruity smell throughout.
xx, The FabFitFun Team