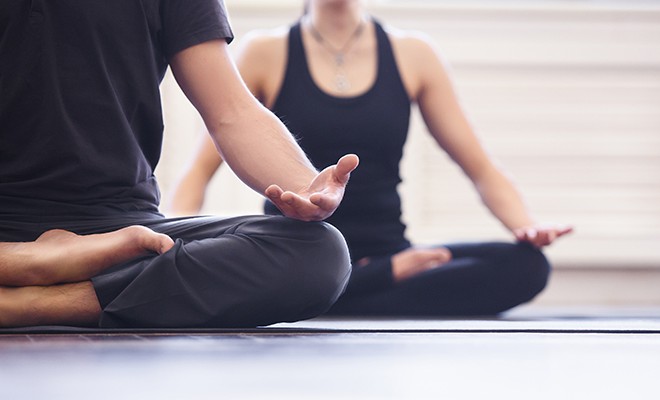 Workout fads come and go yet we've already seen some of the weirdest trends in 2017.
From going through your vinyasa flow in your birthday suit to pretending to surf, below are some of the strangest fitness trends we discovered. Who knows? You just might incorporate one of these trends into your regular workout rotation.
Naked Yoga
This style of yoga gives downward facing dog a whole new meaning. Going nude on the mat is a trend that's gaining a lot of popularity in the U.S. and Canada. The idea behind the practice is to allow people to better focus on their bodies and to liberate themselves. You'll want to bring your own mat for this one!
Crawling
Apparently, crawling is the new planking. This exercise is exactly what it sounds like; you get on your hands and knees and crawl. The point is to focus on constant movement and a full range of motion in your joints. The exercise technique requires you to move like a baby and is said to improve strength and mobility.
Skijoring
If you love to ski and your dog is your best friend, then this will be your new go-to workout. This exercise technique originates from Scandinavia and requires your pooch to pull you along in a harness as you cross-country ski.
SurfSet
You can get the body of a surfer without actually making a trip down to the shore. You essentially work on your balance as you "surf" on a stationary surfboard that wobbles just enough to test your core. You'll get a mix of high-intensity exercise with some yoga movements.
Ganja Yoga
This cannabis-assisted yoga class is unlike anything we've ever seen. Yogis come together to smoke weed and enjoy an otherwise standard yoga class. It's recently gained popularity as yogis can tune out their racing thoughts and pain points while lighting up and doing their cat and cows.
Cycle Karaoke
This fitness trend fuses singing along to your favorite tunes while doing some high-intensity cardio. Belting out lyrics while working out will apparently help you learn to control breathing and increase exercise intensity. Destress, burn some calories, and sing like no one's listening (because they probably can't hear you anyway!).
xx, The FabFitFun Team