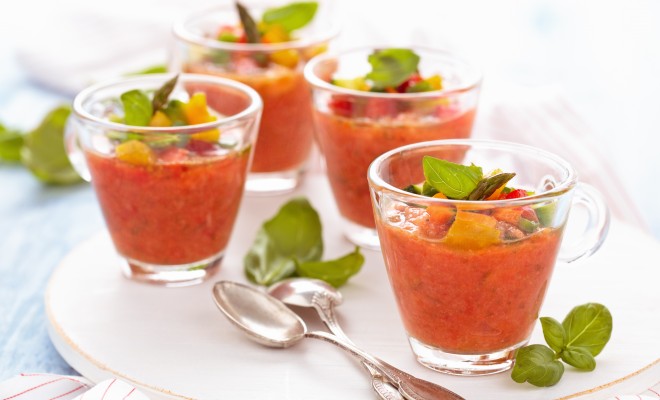 While we'd typically devour a bowl of hot ramen on a winter night, we tend to reach for a cool cup of tomato soup when the sun is out and beaming in the spring.
A cold, vegetable-based soup that blasts the tastebuds with flavor is not only delicious, but also extremely refreshing. We love how easy gazpachos are to make because they require no cooking — just prep the ingredients and toss in the blender and you've got yourself a healthy, veggie-loaded meal.
Serve this gazpacho recipe in shooter glasses with colorful vegetable garnishes as an appetizer or as a main dish in a large bowl with a dollop of mascarpone cheese and crispy garlic bread for a hearty and mouth-watering supper.
TOMATO GAZPACHO RECIPE
Ingredients
24 ounce can of tomato juice, divided in half
3 heirloom tomatoes
1 large cucumber, peeled and chopped
2 cloves of garlic, smashed
1 jalapeno, seeded and chopped
1 red bell pepper, seeded and chopped
1/4 cup red wine vinegar
1/4 cup extra virgin olive oil
1 tablespoon hot sauce of choice
1 tablespoon kosher salt + more to taste
1/2 tablespoon fresh cracked black pepper + more to taste
Chives for garnish
Croutons for garnish
Mascarpone cheese for garnish
Directions
1. In a blender, add the tomatoes, cucumber, 12 ounces of tomato juice, garlic, jalapeno, bell pepper, vinegar, hot sauce, salt and pepper. Pulse all ingredients until smooth, then transfer the mixture into a bowl.
2. Add the remaining amount of tomato juice to blender, and while blending on low, add the olive oil slowly. Then add all the ingredients together and stir to combine, adding additional seasoning if needed.
3. Cover and place the soup in the refrigerator for 2 hours before serving.
4. Serve in small shooter glasses or soup bowl, top with garnish ingredients and enjoy.
xx, The FabFitFun Team