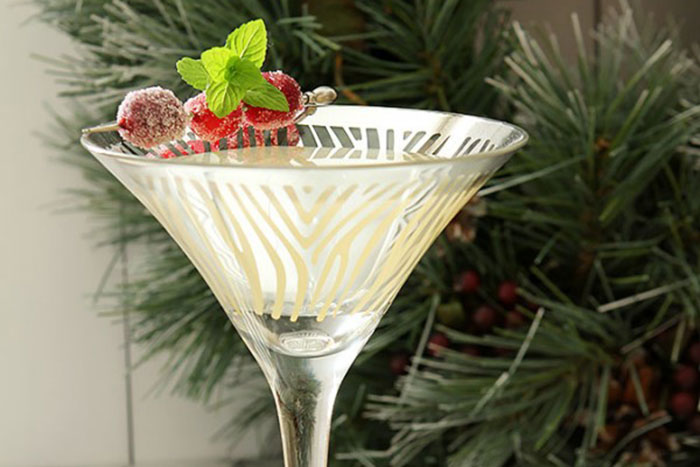 Feature Image by drinkwire.liquor.com
We're all about spreading the holiday cheer — and, sometimes, you have to literally "cheers" in order to do that. So whether you're a fan of an old-fashioned or a sangria, spice up your holiday party with the most festive cocktails.
Raspberry jam is the epicenter of this festive libation that's slightly creamy, not too sweet, and so easy to make.
---
We love this sangria that's not overly sweet. And thanks to the floating cranberries, apples, and rosemary it's totally party-ready.
---
We love gin, but the spiced pear liqueur takes this cocktail to another delicious level (we'll take two!).
---
'Tis the "thyme" of year for festive cocktails, and this one is just as visually appealing as it is tasty — perfect for any getup, from a family Christmas party to a New Year's Eve countdown.
---
This is a good drink to make if you've got kids or non-alcoholic drinkers in the crowd. Simply omit the alcohol and you're still left with a delicious concoction.
---
The key to keeping this drink wintery white is to find white cranberry juice. It may be a difficult search, but trust us, it'll be so worth it.
---
Sunshine or snow, shake up this tasty tequila option. All you need are some grapefruits, lime, tequila, orange liqueur, salt, and simple syrup…yum!
---
Modify this Manhattan to your liking by using as little or as much pomegranate juice as you'd like. The juice should be unsweetened so add more sugar if you and your guests have a bigger sweet tooth.
---
We love how simple the ingredients list is for this bellini. Think blackberries, prosecco, and honey — yep, that's it.
---
This drink will leave you feeling warm and fuzzy inside — kind of like cozying up in your softest winter cardigan. The unique combination is one your guests won't forget.
xx, The FabFitFun Team