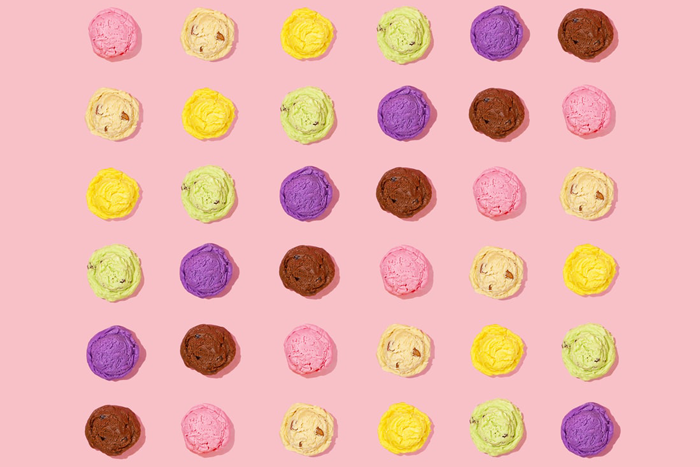 Feature Image by Amy Shamblen
There are as many kinds of people in the world as there are stars in the sky, but that doesn't mean we can't learn more about ourselves by looking to the stars. Your astrological sign can shed light not only on your personality but your preferences as well. Just in time for spring, we've picked the perfect flavor of ice cream for every zodiac sign.
Pisces (February 19 – March 20): Cake Batter
Thoughtful, friendly, and generous, Pisces is never found alone in a crowd. The loving and giving water sign would be the most likely to throw a surprise birthday party, so a huge scoop of cake batter ice cream is the perfect reward for this wonderful friend.
---
Aries (March 21 – April 19): Vanilla Bean
Aries are straight to the point and detest hearing details. They know what they want and how to get it. A (very!) full tasty scoop of vanilla bean is all an Aries really needs.
---
Taurus (April 20 – May 20): Cookie Dough
Taurus have a strong love of comfort and luxury. Their main pursuit in life is to self-indulge — they're basically the poster child for "self-care." A Taurus is at home with a big bowl of high-end cookie dough ice cream and they'll stuff their face until the sun comes up. 
---
Gemini (May 21 – June 20): Chocolate Vanilla Swirl
Geminis are a little bit of everything. They're known for their "dual personalities" because you never know what you're going to get. They'd go for the two-in-one and order a soft chocolate and vanilla swirl in a wafer cone.
---
Cancer (June 21 – July 22): Strawberry
Level-headed Cancers are sensitive, perceptive, and one of the most loyal signs. They find a flavor they love and they'll stick with it forever. Cancers also love sweets, particularly of the fruity nature, so a classic scoop of strawberry ice cream will do.
---
Leo (July 32 – August 22): Dark Chocolate
If there's one thing a Leo loves, it's decadence! Leo's taste is luxurious and over the top (and we're here for it). A rich, dark chocolate would hit the spot for any Leo. Oh, and take note — they'd enjoy some edible gold flakes on top.
---
Virgo (August 23 – September 22): Lavender Honey
Virgos are the most hardworking sign of the zodiac; they're also the most thoughtful. They're artists by nature and appreciate a balanced, thought-out flavor. Virgo would adore every bite of lavender ice cream with a delightful honey swirl.
---
Libra (September 23 – October 22): Pistachio
Peaceful Libras like a harmonious flavor. Known for their emphasis on cooperation and diplomacy, any Libra would love the creamy, nutty flavor in pistachio ice cream.
---
Scorpio (October 23 – November 21): S'more
Scorpios are passionate and independent. They love controversy and authenticity, and aren't afraid to jump into something new. The gooey, chocolatey intensity of a s'more scoop is sure to awaken the Scorpio's intensity and passion.
---
Sagittarius (November 22 – December 21): Ube
If there's one thing we know about Sags, it's that they love to travel or they're usually in a state of deep wanderlust. Their adventurous spirit never burns out. A Sag needs an exciting flavor, like ube, and they'd definitely take it in a waffle cone.
---
Capricorn (December 22 – January 19): Salted Caramel
Responsible Capricorns love tradition and self-control. They are serious and successful at whatever they set their mind to. The deep and complex sweetness of a salted caramel cone perfectly complements the Capricorn's maturity.
---
Aquarius (January 20 – February 18): Matcha
Shy and quiet, Aquarius is often found lost in thought, but they shouldn't be seen as space cadets. Rather, they're concerned and intellectual people with a keen sense of justice. Matcha's deep and complex richness nicely complements the focus of an Aquarius.