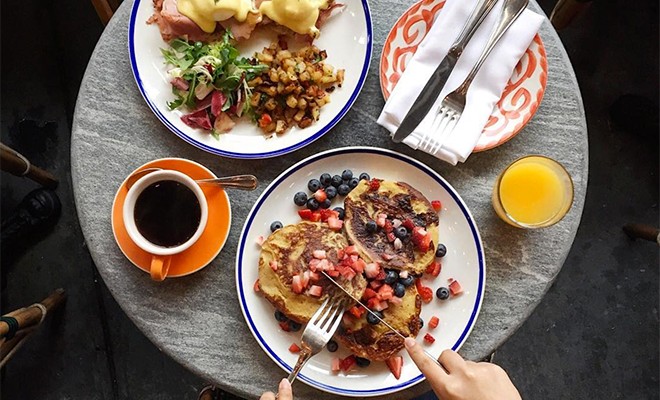 @eatingwithminnie
Who doesn't love brunch? The food is amazing, you get to sleep in, and the visuals are totally 'gram-worthy.
So it's no surprise that everyone's favorite meal has become 335% more popular in the U.S. only in the last year and 165,000 people search "brunch" every month (the obsession is real, people).
With the growing popularity of the in-between meal, it can get a little overwhelming to figure out which ones are actually worth trying. So here's what you should order at the cities that do brunch best.
Arlington, VA: Tupelo Honey's Shoo Mercy Sweet Potato Pancakes
What better place to enjoy some southern comfort than in Arlington? Eat brunch like a local at Tupelo Honey where the Shoo Mercy Sweet Potato Pancakes have people lining up outside the door.
---
Washington, D.C.: The Bird's Fried Chicken Benedict
The Hill is a place to take things seriously…including brunch food. Hit up The Bird for a fun environment and order the Fried Chicken Benedict for a hearty meal that can't be beat.
---
New York, NY: Jack's Wife Freda's Madame Freda
With all of the amazing places to eat in the Big Apple, it can be tough to seek out a top spot. Fear not, though: Yelpers say that Jack's Wife Freda is where it's at. They also rave specifically about the "Madame Freda", a pressed sandwich with duck prosciutto, cheddar béchamel, gruyere, and a sunny side up egg.
---
Boston, MA: The Beehive's Short Rib Benedict
Kick off your New England trip with a hearty brunch at The Beehive. Benedict lovers will be stoked to see a Short Rib Benedict on the menu. Itching to try something ultra-local? Get a side of the clam bisque!
---
Alexandria, VA: Hen Quarter's Chicken and Biscuits
Where better to experience some classic southern comfort than at a place called the Hen Quarter? This sweet spot has made a name for itself with dishes like chicken and waffles and biscuits and gravy. You won't want to miss it!
---
Austin, TX: Forthright's Pork Belly Hash
Get your fix of fresh food and major flavor at Forthright. We love the avocado toast and quiche, along with the Pork Belly Hash. Here's to hoping you pay a visit with friends who are willing to go family style!
---
Miami, FL: La Fresa Francesca's Banana French Toast
French spot, La Fresa Francesca is the place to go for some classic breakfast food. The fruit-based menu items, including the Banana French Toast and guava margarita, rank high on our list of things to try.
---
San Francisco, CA: Plow's The Plow
Scope the skyline of San Francisco from Plow, an epic farm-to-table brunch spot in San Francisco's Portrero Hill District. Since you'll want to sample everything, order The Plow — the signature dish has eggs, pork belly sausage or bacon, lemon ricotta pancakes, and potatoes.
---
New Orleans, LA: Café Amelie's Shrimp and Grits
Café Amelie is a must if you're in NOLA. Order the Shrimp and Grits as it perfectly captures the essence of their local cuisine. Even better, the adorable courtyard is ideal for a nice afternoon meal.
---
Chicago, IL: Snaggletooth's O.G. Lox
Far beyond a typical brunch, Chicago's Snaggletooth has completely mastered bagels (and their toppings). With more than six types of schmear and choices like Salmon Pastrami or the O.G. Lox, these are anything but basic.
xx, The FabFitFun Team