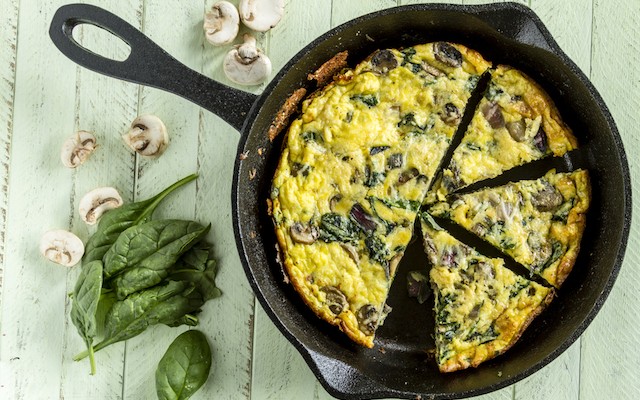 Hosting guests is one of our favorite things to do, and we like to save our best recipes for when they arrive. Nothing screams homey breakfast quite like a decadent quiche dish. Plus, the best part about pulling a hot quiche out of the oven is that it looks like you spent a lot of time making it.
All it takes is a few eggs and a whisk to master this recipe. Toss in all your favorite veggies and cheeses to jazz up any ol' quiche and make it unique to your taste buds.
SPINACH AND MUSHROOM QUICHE
Ingredients
5 large eggs
1 and 1/2 cups milk
1/2 package of refrigerated pie crust, left out at room temperature
1 package fresh spinach
1 cup mushrooms
1 tablespoon olive oil, divided
1/2 cup goat cheese
1 teaspoon kosher salt
1/2 teaspoon fresh cracked black pepper
One pinch of teaspoon nutmeg
Directions
1. Preheat the oven to 350 degrees F. While the oven is preheating, sauté the spinach with 1/2 tablespoon of olive oil for a couple minutes until the spinach is just wilted. Remove from heat and squeeze out excess water from the spinach with cheese cloth or paper towel — set aside.
2. Sauté the mushrooms with the other half tablespoon olive oil for 5 minutes until browned –set aside.
3. In a pie dish, skillet, or cast iron, unroll the pie crust so that the dish is covered, then distribute the goat cheese evenly, followed by the spinach and mushrooms.
4. In a large mixing bowl, whisk the eggs, milk, kosher salt, pepper, and nutmeg together. Carefully pour the eggs mixtures over into the dish over the other ingredients, and top with additional salt and pepper if you prefer.
5. Bake for 40 minutes until until the quiche becomes slightly golden. Let cool for a few minutes before slicing and serving.
xx, The FabFitFun Team