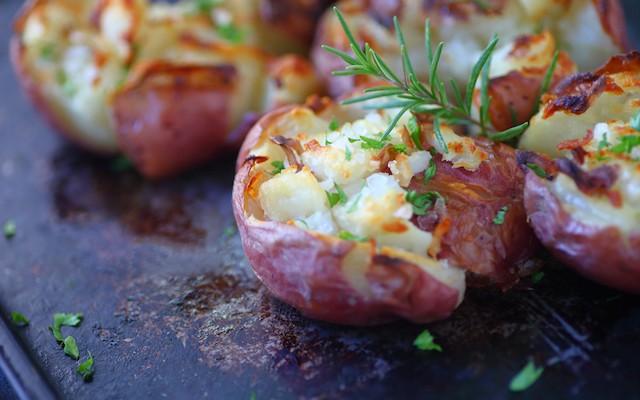 Tired of making the same ol' mash to go with your casserole? Try these delicious smashed potatoes instead! Not only is this recipe super simple to whip up, but it's also a more flavorful and healthy alternative to the classic mashed potato dish, which is typically loaded with butter and cream.
We used herbs to compliment the red potatoes, making them an elegant and satisfying side dish. If you want to turn up the heat on these potatoes, feel free to add a dash of cayenne or paprika, as all spices go very well with red potatoes.
Roasted Smashed Potatoes
Ingredients
15-20 small red potatoes
1 tablespoon extra virgin olive oil
1 tablespoon fresh rosemary
1 teaspoon dried rosemary
1 teaspoon dried oregano
1 teaspoon garlic powder
1 tablespoon kosher salt plus more to taste
1 tablespoon fresh cracked black pepper
Directions
1. Preheat oven to 450 degrees F. While oven is preheating, boil the potatoes in a large pot with heavily salted water for 10 minutes, until potatoes are tender.
2. On a baking sheet lined with foil, place the boiled potatoes then add olive oil, fresh and dry herbs, and salt and pepper on top of the potatoes. Toss so that all the potatoes are evenly coated with the herbs and oil. Add more herbs if needed.
3. With a small masher or large fork, press down on each potato to create the smash. One press is all you need to do. Add additional olive oil with a brush on top of each potato, and sprinkle a little more kosher salt.
4. Bake potatoes in oven for 15-20 minutes until their color is nicely browned.
xx, The FabFitFun Team