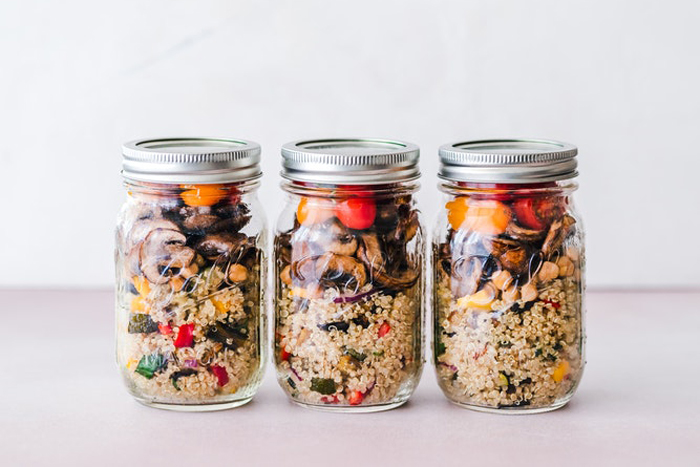 Feature Image by Ella Olsson
Plastic zip-close bags are more than just a household staple; it's a tried and trusted way to make sure your groceries stay fresh, which makes it all the more difficult to ditch it for good.
However, plastic items contain chemicals, such as bisphenol A (BPA) and bisphenol S (BPS), which have been linked to prostate cancer, infertility, heart disease, neurodevelopmental disorders, and more. What's more, plastic isn't biodegradable, meaning it can't be recycled.
So then how exactly do you store food without any plastic? We rounded up five greener solutions below.
Glass
Save mason jars and glass products for your veggies and fruits! For example, you can stand celery sticks in a glass jar or fill a glass container with water and float carrots inside.
Pyrex Tupperware
If you love to cook and reheat leftovers for lunch or dinner, Pyrex Tupperware is worth the investment. It comes in all shapes and sizes and is a great freezer-friendly alternative to Ziplocs.
Cloth
Wrap bread in cloth and store it in a dark basket to keep it fresh and mold-free. You can also dampen the cloth and use it to wrap beans in the refrigerator for maximum freshness.
Beeswax wraps
If you love storing lemon wedges or the likes in saran wrap or foil, this is a biodegradable, breathable, malleable, and freezer-friendly alternative. Like plastic saran wrap that boasts the ability to press and seal freshness, the same is true for Beeswax wraps.
Whole in freezer
Did you know that you can store whole tomatoes, bananas, and stone fruits like apples, berries, cherries, or peaches in the freezer without covering it? Yep, it doesn't sacrifice any of the nutrients!
xx, The FabFitFun Team
P.S. 9 million tons of plastic from land end up in the ocean every year. And that's not all – here are five things you probably didn't know about your plastic waste.