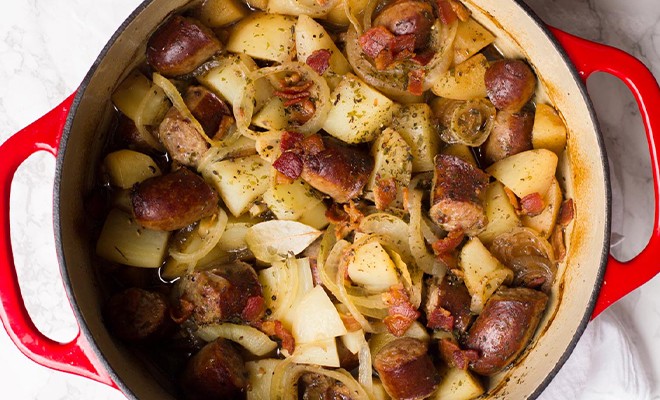 wholefully.com
There's far more to Ireland than Guinness and shamrocks.
Instead of munching on bland St. Patrick's Day cookies, try cooking one of these traditional recipes to celebrate "the luck of the Irish." Yum!
Irish Apple Cake with Custard Sauce
Apples — plentiful and sweet on the Emerald Isle — are the star of this cake. It's fluffy, fragrant, and the custard sauce makes it perfect for a cheat day.
---
Shepherd's Pie with Rich Gravy
This dish is the ideal comfort food for those who prefer something more savory. Although recipes vary in ingredients, it's traditionally made with lamb, which is how it got its name!
---
Colcannon
For all our potato lovers, colcannon is a mixture of your classic creamy mashed potatoes and a green veggie like cabbage or kale. Now you can feel a little less guilty about indulging in one of your favorite comfort foods.
---
The Waterford Blaa
Ah, carbs are our weakness — especially this variety. It's usually served with butter or filled with bacon, but you can make a quick on-the-go breakfast by throwing in some ham and cheese for something simple yet tasty. Let's just say these beautiful buns are anything but "blah."
---
Irish Boxty Potatoes
Simple, tasty, and comforting…these potato pancakes combine mashed and grated potatoes to create a texture that's reminiscent of both pancakes and hash browns (yum!). It's also a great way to use leftover mashed potatoes!
---
Irish Breakfast
Often referred to as a "fry-up", this hearty breakfast is commonly found being shoveled into the mouths of the very hungover.
---
Irish Barmbrack
This loaf is traditionally eaten on Halloween where rings, coins, and other small treasures are often baked inside for children to find. It's delicious any time of the year, but is often called "tea brack" after October.
---
Dublin Coddle
Feel free to get creative with this one! Families have their own secret recipes for making a delicious coddle so why not add yours to the list? Hearty and thick, this stew is perfect for rainy Irish winters.
---
Darina Allen's Ballymaloe Brown Yeast Bread
If you've never tried Irish brown bread, you're in for a serious treat. It's both sweet and savory with a buttery and rich flavor. With just a few steps, it's an easy recipe to whip up at home!
---
Howth Head Seafood Chowder
Howth is a city in Ireland famous for its fish, and this creamy, smoky chowder celebrates the best of Irish seafood.
xx, The FabFitFun Team