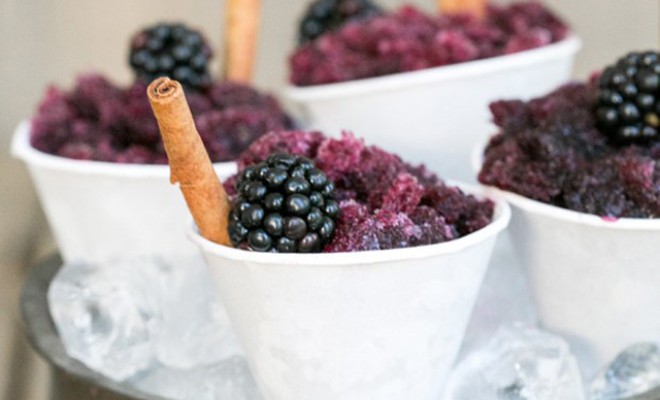 sugarandcharm.com
With summer right around the corner, the heat is definitely getting real. Now's a better time as any to stay cool (wink, wink) with these frozen cocktails that everyone from your best friend to your mother will love.
So indulge in a bit of happy hour with these easy-to-make icy beverages.
Frozen Mojito
This frozen mojito is light, minty, and very tasty. Make a batch for your next party this summer and beat the heat in the best way possible.
---
Watermelon Slush
Could a cocktail be more summery than this watermelon concoction? You can also make it non-alcoholic for the kids or for friends who don't drink. How could anyone pass this up?
---
Frozen Margie-Cardorita Cocktail
Avocados already have a special place in our heart (and stomach), but these cocktails take the cake. The recipe couldn't be easier to follow and tastes even better when accompanied with chips, salsa, and guac.
---
Sangria Granita Snow Cones
Get a little crafty with this frozen sangria cocktail! You can prepare this recipe the night before for ready-to-grab drinks. Plus, the snow cone and cinnamon sticks add a charming touch.
---
Frosé (Frozen Rosé)
You don't have to travel to NYC to get your frosé fix — make your own this summer with this simple recipe from Bon Appetit. Make sure to get a hearty bottle of rosé if you want the color be a yummy pink!
---
Frozen Lemonade Gin Cocktail
Your childhood lemonade stand just got a delicious upgrade. Add a bit of gin for a boozy beverage that'll leave everyone wanting more. Even better, throw in a splash of tonic or club soda after freezing for a fun and fizzy twist!
---
Frozen Blueberry Margaritas
Skip the sugar-laden blueberry pie and drink your serving of fruit with this amazing margarita. Garnish it with even more fruit or a bit of chili powder for a spicy kick.
---
Skinny Frozen Piña Colada
You don't have to travel anywhere tropical to get this vacation-worthy drink. This skinny version of everyone's favorite frozen cocktail is just as delicious for fewer calories…yum!
xx, The FabFitFun Team