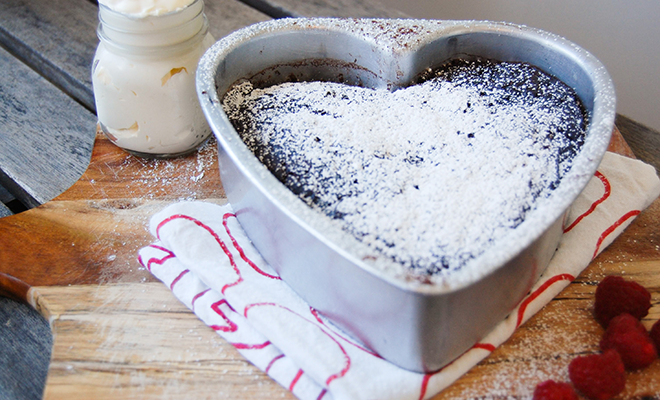 Ah, Valentines Day, the most divisive holiday of the year. Some say it's a beautiful celebration of love of all sorts, while others say it's too commercial. And then there are those who just love the chocolate!
Seeing as we're firmly in the "chocolate" category, we thought we'd share this incredible self-saucing cake recipe. What exactly is it? These indulgent beauties originated in Australia and look like a normal sheet cake — until you cut into it! Underneath the fluffy, rich cake, you'll find a velvety chocolate sauce. It sounds complicated, but it's actually very easy to make.
So whether you're spending the 14th with your significant other, your friends, or your dog, bring along this delicious cake. (Just don't let your dog have any of it.)
Self-Saucing Chocolate Raspberry Cake
Ingredients
Cake
1/4 cup brown sugar
2/3 cup self-rising flour
3 tablespoons extra dark cocoa powder
1/2 cup chocolate chips, melted
2 tablespoons butter, melted
1/3 cup milk, not too cold
1 egg, room temperature, beaten
1 teaspon salt
1 punnet raspberries, crushed and sprinkled with a bit of sugar
Sauce
1 tablespoon brown sugar
1 tablespoon white sugar
1 tablespoon cocoa powder
1 cup boiling water
Directions
1. Heat oven to 350 F. Grease or butter a cake pan.
2. Sift together the brown sugar, flour, salt, and cocoa powder.
3. Combine the melted butter and chocolate. Once it has cooled down a bit, add the beaten egg, raspberries, and milk. Make sure the butter and chocolate aren't too hot, or the milk isn't too cold (otherwise, you could end up with chunks!).
4. Thoroughly combine wet and dry ingredients. Then evenly spread the batter into the prepared pan.
5. Sprinkle your extra sugars and cocoa over the batter, and then slowly and evenly pour the boiling water over. It will look messy, but don't worry — it'll sort itself out!
6. Pop the batter into the oven and bake for 35 minutes.
7. Serve hot or with ice cream on top.
xx, The FabFitFun Team