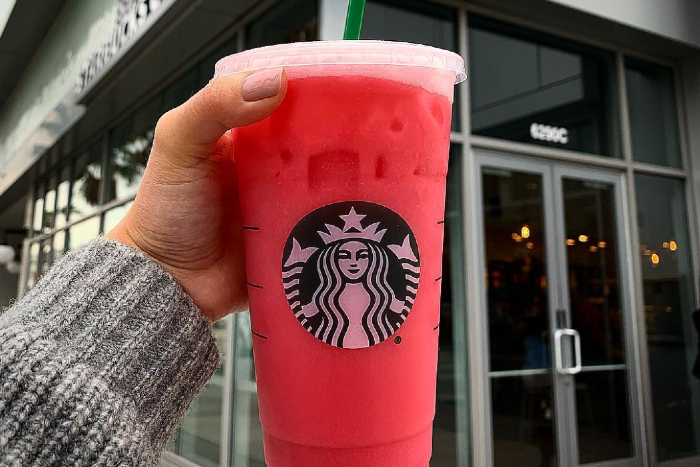 Feature Image by @basiqqbaguette
TikTok is a goldmine of tips, tricks, and ideas, especially when it comes to food and drinks. Our recent obsession? Starbucks drinks that you won't find on the coffee chain's official menu.
That's right, beverages from the company's so-called "secret menu" are taking over our social media feed: candy-inspired frappucinos, sunset-inspired refreshers, and dangerously creative cold brews.
In the rare case that you haven't started scrolling already, see below for eight Starbucks drinks that went viral on TikTok.
Per a barista's expert insight, ask for a strawberry frappuccino with vanilla bean, white mocha, and cinnamon dolce to make this beautiful beverage yours.
---
If you're that person who orders iced coffee during the winter, then this iced hot chocolate beverage definitely needs to be on your radar.
---
There's the TikTok-famous Pink Drink, and then there's the viral Matcha Pink Drink. To achieve the Instagrammable ombré effect, the barista adds vanilla cold foam and blends in a scoop of matcha powder. Genius!
---
If your sweet tooth knows no bounds, this caramel-packed drink will undoubtedly curb your craving. Just look at that caramel drizzle.
---
Starbucks lovers have dubbed this beverage "The TikTok drink." But if your barista is unfamiliar with the recipe (a secret menu doesn't tangibly exist, after all), here's what you should order in-store: a venti-sized Açaí Refresher blended with three scoops of strawberries and three scoops of berries.
---
According to @themacrobarista on TikTok, this beverage is only 50 calories, and it tastes like the beloved chocolate and hazelnut spread. Ordering is easy: Ask for a grande Nitro Cold Brew with one pump of mocha, one pump of hazelnut, and two pumps of sugar-free vanilla.
---
Skip the Twix (or don't — your call) and order this drool-worthy frappucino. Ask your barista for a Caramel Frappuccino with two pumps of hazelnut syrup, java chips, extra caramel, and mocha drizzle.
---
Trade your morning coffee for this sunrise-inspired secret menu drink. To order it, ask for a Mango Dragonfruit Lemonade Refresher without berries. Then, ask the barista to leave plenty of room for peach tea and passion tea on top, not blended in.
Which of these viral drinks do you want to try? Let us know in the comments below!
xx, The FabFitFun Team