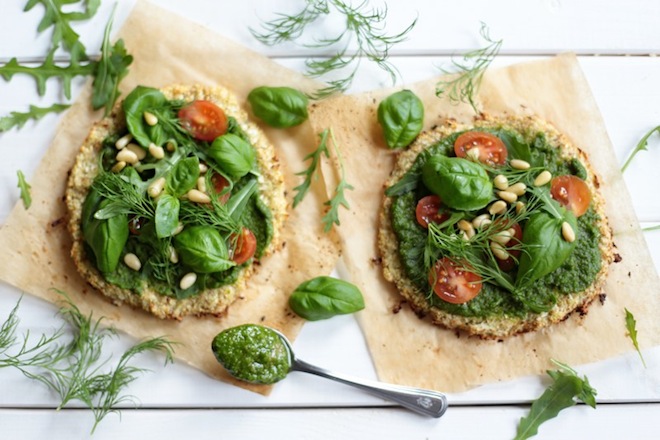 Living a vegan lifestyle doesn't mean your diet is only limited to fruits and veggies. You can indulge in your fave foods if you make it with the right ingredients — yes, this includes pizza.
We rounded up seven vegan pizza recipes that will even have non-vegans drooling over these delicious dishes. You won't even realize you're not indulging in meats and cheeses.
Vegan Pizza Margherita
If you like your pizza simple, we suggest creating this delicious vegan margherita pizza. With the most basic ingredients, this vegan pizza will taste as close as it does to the real deal. It's the perfect bite for a summer night, and of course, paired with chilled Sauv Blanc.
---
The Ultimate Mexican Pizza
If you're craving something non-Italian flavored, this is the perfect pizza to devour. It's basically like an open faced burrito and we're sure it'll pair perfect with a margarita. And hey…margaritas are vegan, too!
---
Mini Cauliflower Pizza
Whether you're vegan or not, cauliflower pizza is the perfect way to cut back on carbs. This non-dairy, cheesy, and gluten free recipe will give you the best of both worlds — pizza and a healthy summer bod. Sign us up!
---
Thai Chickpea and Veggie Pizza
You will certainly enjoy this flavorful Thai pizza for those nights you're craving thai food. With strong spices, hearty chickpeas, and a crunchy crust, it's the perfect pizza to give your taste buds a party.
---
Pesto Cashew Ricotta Pizza
Vegan pesto really is the best-o! If you love pesto as much as we do, you will love this vegan pie. Replacing normal ricotta with creamy cashews, takes vegan recipes to a whole new level.
---
Vegan Summer Flatbread Pizza
Last, but definitely not least, we always love a veggie filled flatbread. You can never go wrong with a pizza loaded with colorful produce. This summer inspired pizza is the perfect appetizer or dish to serve at a pool party or patio dinner.
xx, The FabFitFun Team