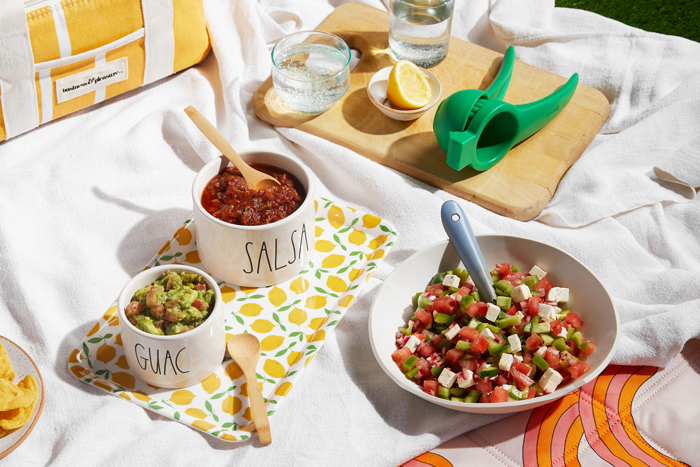 Featuring
You might have your outdoor barbecue in order, but let's not forget about the side dishes. They're equally as important, so we asked a couple of FabFitFun members from the Community to share the recipes they're going to be whipping up this summer.
And, of course, an outdoor barbecue or picnic isn't complete without products to match. Ahead, we're refreshing recipes that just might outshine your main dish, plus some serving tips!
Horiatiki Salad
Recipe by @Lilyanne
Servings: 6
Ingredients:
¼ cup apple cider vinegar 1⁄4 cup red wine vinegar
½ lime, juiced
½ cup red onions, diced
4 Roma tomatoes, diced
1 hot house or seedless cucumber, diced 1 green pepper, diced
3 tablespoons olive oil
¼ teaspoon oregano
½ teaspoon sumac
2 ounces feta cheese
Directions:
In a medium bowl, combine the apple cider vinegar, red wine vinegar, and lime juice (tip: use the Art & Cook Citrus Squeezer to juice your lime!). Macerate the diced onions in the mixture for at least 15 minutes.
In a large bowl, combine the tomatoes, cucumbers, and green peppers. Mix well. Using a slotted spoon, add the onions to the large bowl.
Hand whisk or blend 1⁄4 cup of the remaining apple cider vinegar, red wine vinegar, and lime juice with olive oil, oregano, and sumac.
Combine the dressing with vegetables. Add the feta cheese and mix well.
Top with additional feta cheese and serve immediately.
---

Chunky Guacamole
Recipe by @TeishaT9713
Servings: 4
Ingredients:
2 large ripe avocados
¼ cup tomatoes, diced
2 teaspoons garlic, minced
¼ cup red onions, diced
1 tablespoon lemon juice
½ teaspoon cumin
¼ teaspoon salt
½ teaspoon pepper
½ teaspoon granulated onion powder Optional: 1⁄4 teaspoon cayenne pepper
Directions:
In a large bowl, combine the avocados, tomatoes, garlic, and red onions. Then add lemon juice and spices.
With a fork, gently mash the ingredients together until you reach your desired consistency. Serve immediately. We recommend using ceramic bowls like the Rae Dunn by Magenta Guac/Salsa Bowls, which makes it easy to serve guac alongside the salsa. It also comes with wooden spoons to ensure no double-dipping! You can also place the bowls on a tray like the To the Market Melamine Printed Tray to catch any spillage.
xx, The FabFitFun Team
Psst! Have you signed up for FabFitFun yet? Don't miss out on seasonal boxes filled with the best products in beauty, fitness, and lifestyle, member-exclusive sales, an amazing Community of like-minded women, and more. Use code CELEBRATE at checkout for 20% off your first box.
To get the most out of your box products, make sure to check out the Members Only page.