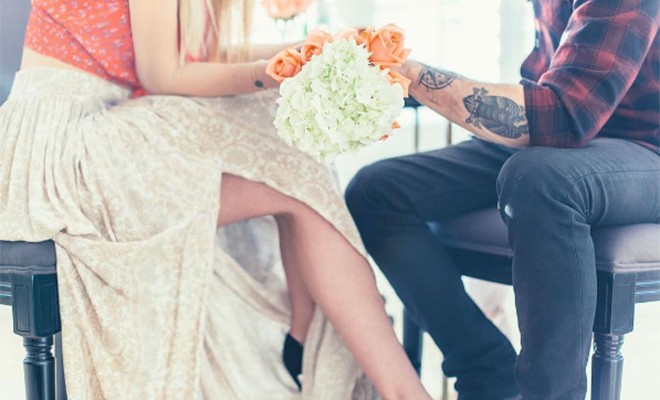 It seems like everyone is getting engaged these days. You can't scroll through Instagram or Facebook without coming upon a freshly manicured hand showing off a gorge diamond ring. But we don't blame them — we'd do the same thing, too.
While snapping the perfect engagement photo is important, there are much more crucial aspects to consider before tying the knot. You might think you know your significant other, but the below questions can help you to further understand if you and your partner are meant for "happily ever after."
Consider asking the following 10 questions to your future hubby-to-be before saying "I do."
How do you react in stressful situations?
From breaking a phone to getting in a car accident, there are many types of stressful situations. How will your partner react in stressful times — both major and minor? Will they stick by your side? Will they stay calm? It's very important to know how they will react to see if you will be able to help each other in tough times.
Do you want kids? If so, how many?
We know this is an obvious question, but many couples have actually split because of lack of transparency on this topic. If you know you want kids, make sure you and your fiancé are on the same page in terms of how many you want and when you want them.
What is your ultimate financial goal?
Money can be a tough topic for couples. Once you're married, finances become one and it's important you know how you both want to spend and save money. Having the same financial goals and being open about spending money will help establish ground rules and have a healthy marriage.
How much time will you spend at work?
Work is a priority but you always want to make sure work isn't the number one priority — your marriage is. If there are times work is the top priority, make sure you understand or help your partner understand why.
Do we have more than just love?
It's very important to have more than just a passionate relationship. Marriage is hard work and it takes more than just passion to keep it healthy. You need to be committed, be able to compromise, and work hard at loving your partner because it will get tough.
How will we deal with a break in trust?
We believe in no secrets in relationships, but people make mistakes and that trust can be broken. But during those times, it's important to know that you both will work together to rebuild trust and find ways to make the marriage work.
Do we share a religion? If not, should we share one?
Before you switch to another religion just to make your partner happy, make sure you're both on the same page about your spirituality. Spirituality is a sensitive topic and it's crucial to cover these grounds and how you want to approach it before tying the knot.
Is there anything you are not prepared to give up in a marriage?
With marriage comes big sacrifices and small sacrifices. In any successful relationship, compromise and understanding is needed. Ask your partner what they can and can't compromise and come to a mutual agreement on how to make your relationship work in regards to that.
Can we comfortably discuss our sexual needs/preferences with each other?
While this topic can make many uncomfortable, you need to discuss this with your significant other. As much as an emotional connection is needed in a successful marriage, a physical connection is just as crucial. Being able to be transparent with each other in all areas of your marriage will prove a fruitful one.
Have you had any health issues? Has your family had any health issues?
This is an extremely important question that may seem like an obvious one, but somehow it manages to get lost in all of the other questions. Make sure you know your partner's family's health history so you can know what to expect in the future.
xx, The FabFitFun Team