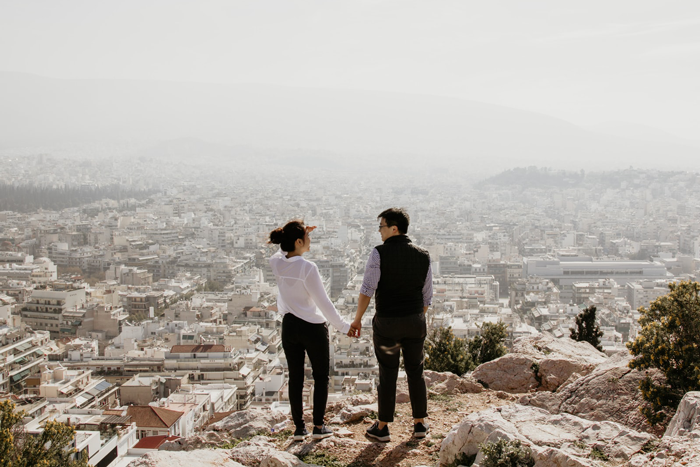 Feature Image by Farsai Chaikulngamdee
With Valentine's Day around the corner, plenty of people will be getting their partners flowers, cards and chocolates. But there are many other ways to make your Valentine feel special, and that doesn't always mean getting gifts.
One way to figure out what will make your partner the happiest is to look at their "love language." Love language is a concept created by couples' therapist Dr. Gary Chapman to describe how people express their love and feel loved, explains Katrin Sperling, a linguist at the language-learning app Babbel.
Just as people need to speak the same language to communicate, partners can better convey their feelings by speaking each other's love languages, says Sperling. Here's how to do that on Valentine's Day, depending on what your partner's love language is (and if you're not sure, you can both take the quiz here).
Words of affirmation
"People whose primary love language is words of affirmation value praise, sincere compliments, honest vocal appreciation and spoken declarations of love," says Sperling. If this sounds like your partner, a beautiful handwritten card or poem will make a meaningful Valentine's gift. You could even create a CD or a playlist of songs that remind you of your partner and your relationship.
Quality time
"Speakers of this love language value exclusive, present and attentive time together — think intense conversations, one-to-one activities and screen-free bonding," says Sperling. A partner who values quality time will appreciate it if you make hem a romantic dinner, plan a day full of surprises or (if you want to go the extra mile) set up a scavenger hunt they can undergo alongside you to find little things you've left them throughout their home.
Gifts
People who speak the love language of gifts aren't materialistic — they're more interested in the thought you put into the gift, says Sperling. "These speakers are seeking signs of your creativity, the element of surprise and your intuition about their unspoken wishes or desires. They want to feel like you instinctively know them." These kinds of people will appreciate something handmade, like a piece of jewelry or work of art that has significance for you, or an object that symbolizes a memory you've shared.
Acts of service
Speakers of this language love when their partners go above and beyond to take care of chores for them or otherwise make their lives easier, says Sperling. For Valentine's Day, go beyond the chores to do something sweet, like setting up a romantic bath for your partner, cooking them their favorite meal or even taking them on a little trip.
Physical touch
"For people with this love language, physical closeness is vital," says Sperling. "This isn't just about sex, though. Hugs, snuggles, kisses, holding hands, an arm around the waist or shoulders or even the light touch of forearms or feet when sitting together are all considered declarations — and proof — of love." To express your affection for a partner with this love language on Valentine's Day, give them a massage, or plan a sexy night that includes a new toy or another fun, sensual gift.
xx, The FabFitFun Team