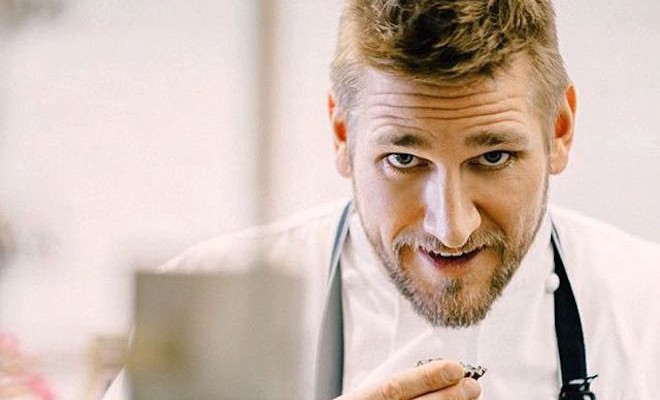 Looking to spice up your summer? We've got you covered this #FollowFriday. This week's topic: hot chefs. While they're all wildly talented in the kitchen, they're also really easy on the eyes. From past Top Chef contestants to Curtis Stone (because how can we do a hot chef roundup without him?!), check out these sizzlin' hot chefs.
Celebrity chef Nicolas Torrent is one to add to your feed. Not only because of his easy-on-the-eyes looks, but also because he's super talented and inspirational. He strives to use natural ingredients to create gourmet masterpieces. Look out for his motorcycle pics (gulp!), gorgeous foodie pics, and more.   
---
Do we need to even explain why Curtis Stone, Aussie celebrity chef, is on our list? Didn't think so. In addition to his looks, he's a restauranteur, author, and reality tv star (remember The Celebrity Apprentice 3?!). If that's not enough, throw in his hot wife Lindsay Price and gorgeous two little boys. He also loves his fans, so don't be shy next time you see him in public!
---
Hot dad alert! Michael Chernow is one of our favorites. He's a solid family guy (just look at the pics of his cute kid and gorgeous wife!), and also a big name in the chef world. As Co-Founder of The Meatball Shop and Owner of Seamore's, it's safe to say that he's talented in the kitchen too.
---
Bryan Voltaggio had us at fried chicken. The Maryland native has created quite an empire with his five restaurants: VOLT, Aggio, Family Meal, Lunchbox and Range. When he's not cooking, find him traveling and partaking in epic adventures. Oh yeah, he's also got a great sense of humor.
---
If you're ever near Fernandina Beach, Florida, don't miss out on the chance to stop by Gilbert's Underground Kitchen. First of all, the food is amazing. Secondly, you have a good chance of spotting hot chef and owner Kenny Gilbert. You might recognize his gorgeous smile from Top Chef (season seven). His feed is also super entertaining, with pics of his beautiful newborn baby boy and, of course, delicious looking food.
xx, The FabFitFun Team