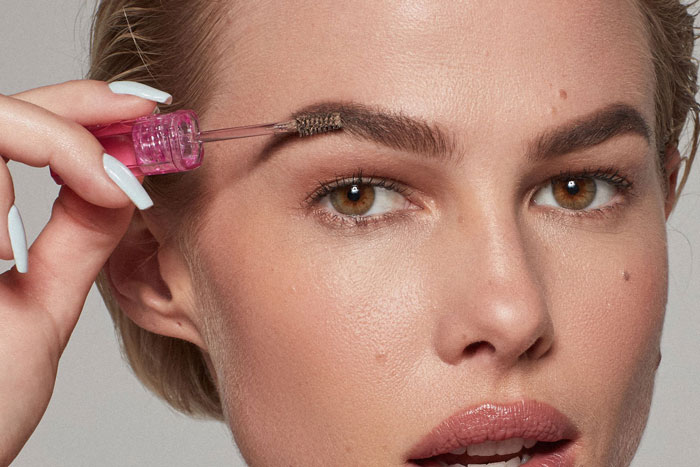 Feature Image by Kosas
Industry insiders have deemed the "brushed-up" brow the most on-trend eyebrow aesthetic.
"Fluffy brows are here to stay," explains Shaughnessy Otsuji, owner and restorative tattoo artist at Studio Sashiko. "Everyone seems to be embracing the natural-looking, soft and feathery brow these days." She explains that a slightly straighter brow shape (as in, less of a dramatic arch) with lots of hair-like texture and a "lifted tail" to accentuate the eye shape is undeniably popular.
So how do you achieve the coveted natural and voluminous look? A swipe-on brow gel that separates and combs individual strands, while holding them into place is key.
"By using a brow gel, you can achieve a fuller looking brow as the hairs are redirected upwards to take up more space in the brow area," Otsuji explains. "I apply a brow gel by brushing forward — in the opposite direction of hair growth — to coat the hairs fully. I let the gel set until it is slightly tacky, and then brush the hairs back and upwards to create more thickness and texture."
Forget the days of over-plucking and sharply manicured edges! Here are 10 one-swipe brow gels — both tinted and untinted — to help you achieve the fluffiest brows ever. Finish up the look by filling in any areas of sparsity with ultra-fine, feathery strokes from your favorite felt-tip brow product or pencil.
Kosas' most recent brow launch comes in ten shades, a clean formula, and helps groom and fluff for the coveted look of the laminated eyebrow. It also conditions and supports growth via castor oil, peptides, and vitamin B5 with each swipe.
---
The indie brand offers a vegan, cruelty-free, and fragrance-free brow product in three tinted shades. The pomade-meets-gel swipes on with a brush and leaves styled brow hairs in its wake.
---
The vegan drugstore brand offers this clear brow tamer for days when you want to look groomed, but not exactly "done up." This option is also refreshingly cruelty-free, making it an affordable staple in your on-the-go beauty kit.
---
Our luxury clean pick is this newcomer from Kjaer Weis, which is infused with clean ingredients that impart a natural-looking tint. If you love no-makeup makeup, this formula is ultra-efficient yet goes on like air.
---
Score fuller, fluffier brows on a budget with this lightweight, tinted gel. The incorporation of fibers makes brows look fuller, while the brush helps you tame stray hairs and hold them into place.
---
Choose among four shades (including an untinted option) with a unique rubber bristle that shapes and styles for the perfect textured look. Luxury-lovers will not be disappointed with the windswept potential provided by this next-level brush.
---
If you prefer a more petite brush for ultra-detailed styling, we got you. This luxury brow product comes in three different tints for bold brows with natural-looking emphasis.
---
Each swipe grooms stray hairs, holds them into place, and provides tint to fill in any patchiness or grays. The vegan and cruelty-free formula even incorporates actives to treat the skin of the brow region while imparting water-resistant color.
---
Microfibers help to provide an extra "extension-like" effect to brow hairs for that trend-right fluffy texture. The vegan and cruelty-free gel is free of parabens, phthalates, and triclosan.
---
Multi-task your way to fuller brows with the peptide-rich brow enhancement serum with added microfibers for volume. Helping you to keep your combed brows in place throughout the day, you can choose in a tinted or untainted formula.
xx, The FabFitFun Team